5 ideas to furnish your home with the Scandinavian style. Here our tips to create a real hygge environment.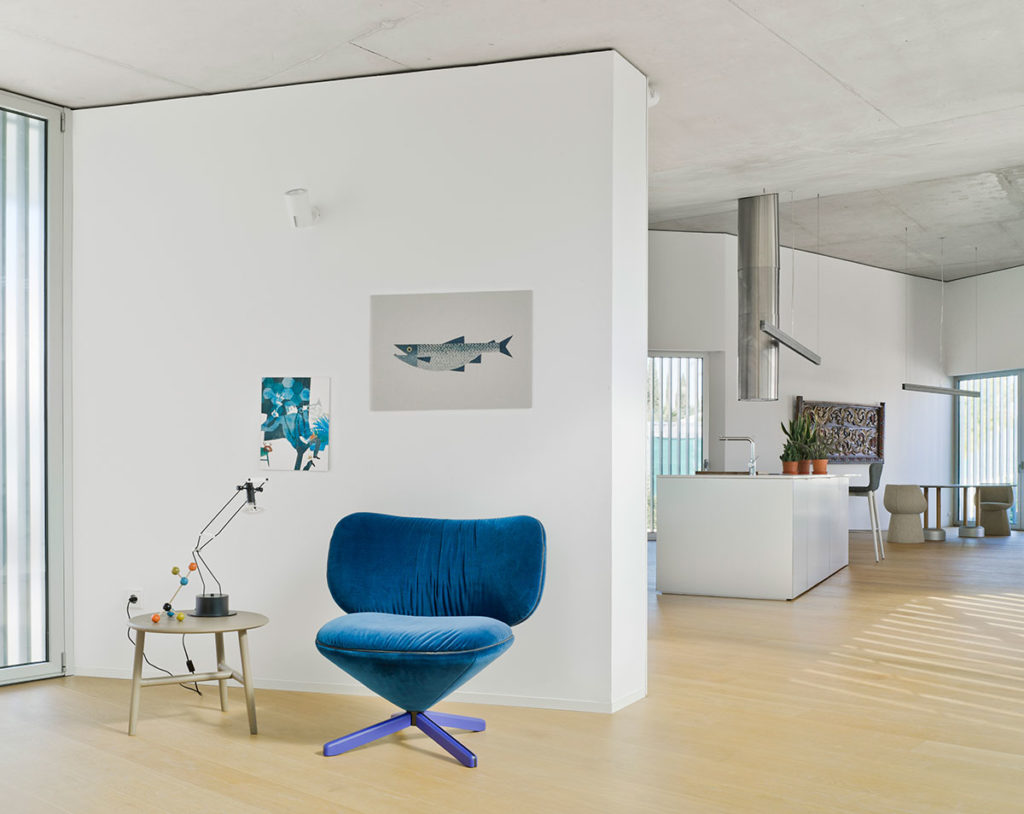 The ideal basis of the Scandinavian style is the use of wood, preferably light wood, bleached but also colored (only for some accessories or furniture) in more vibrant tones in order to break the monotony of an environment that would be too trivial. Wood, being a warm material capable of creating a very welcoming environment, is always modern and up-to-date, finding great versatility and insertion even with very different styles. You can create, in fact, neutral combinations, anything but cold that can prove extremely hot and become the keystone to solve situations of furniture in a way that is anything but anonymous.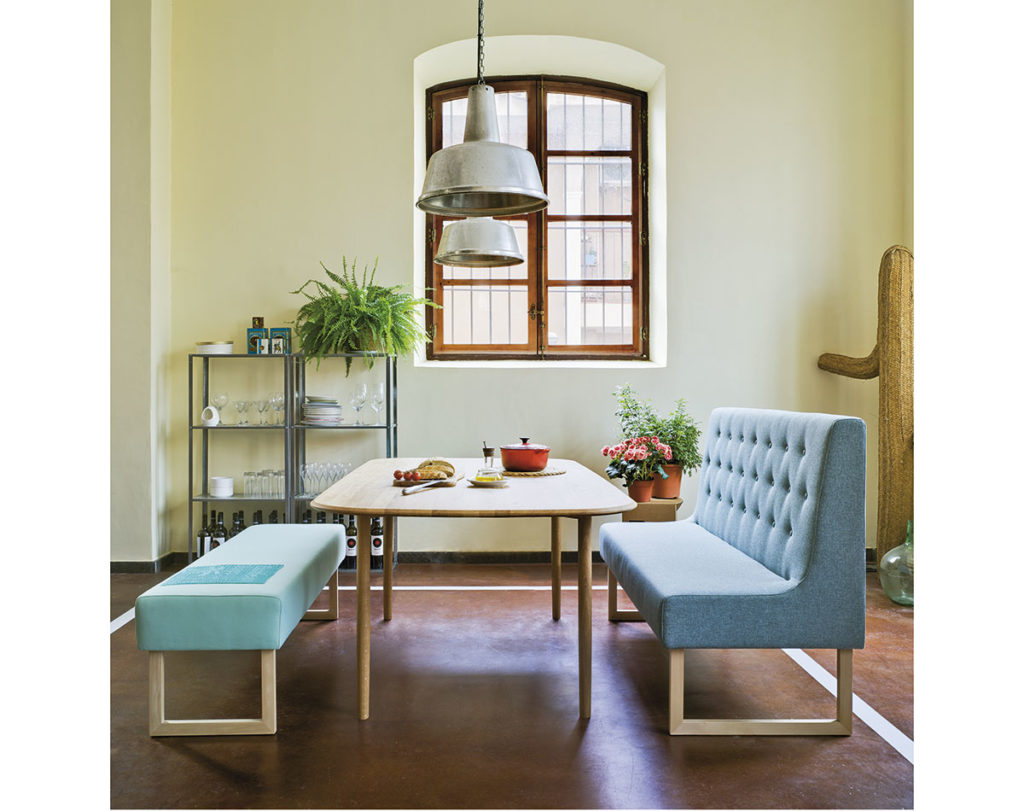 Here are 6 suggestions to take inspiration from:
1 Kitchen
We recommend combining light wood with a matt finish, white or a very delicate pastel colour, such as blue or green, thus creating an essential and minimalist environment that is at the same time very welcoming. If the kitchen is large, it is better to opt for a table with stools or chairs in natural wood.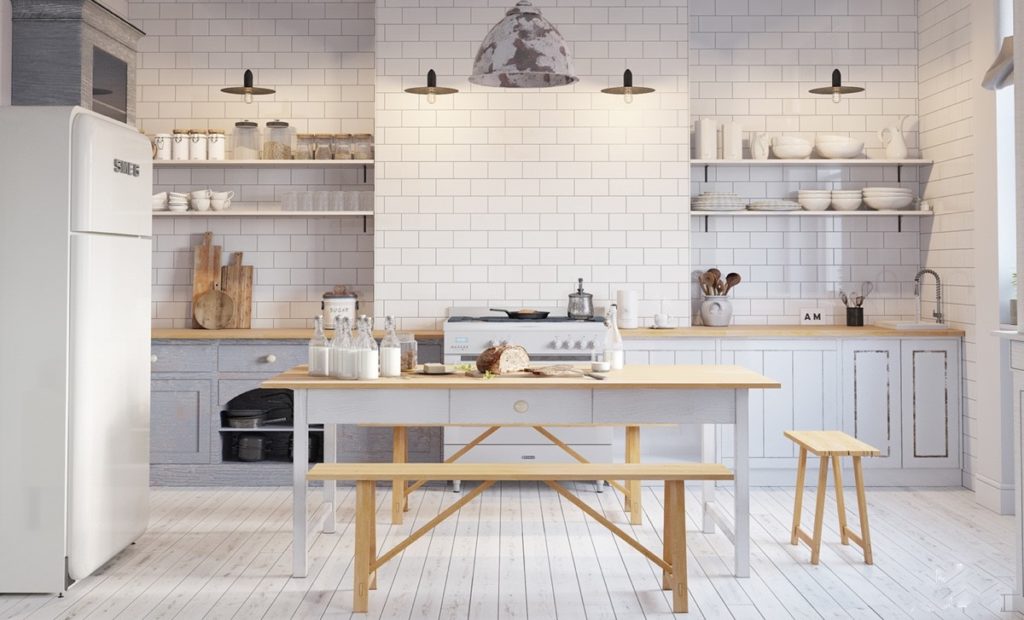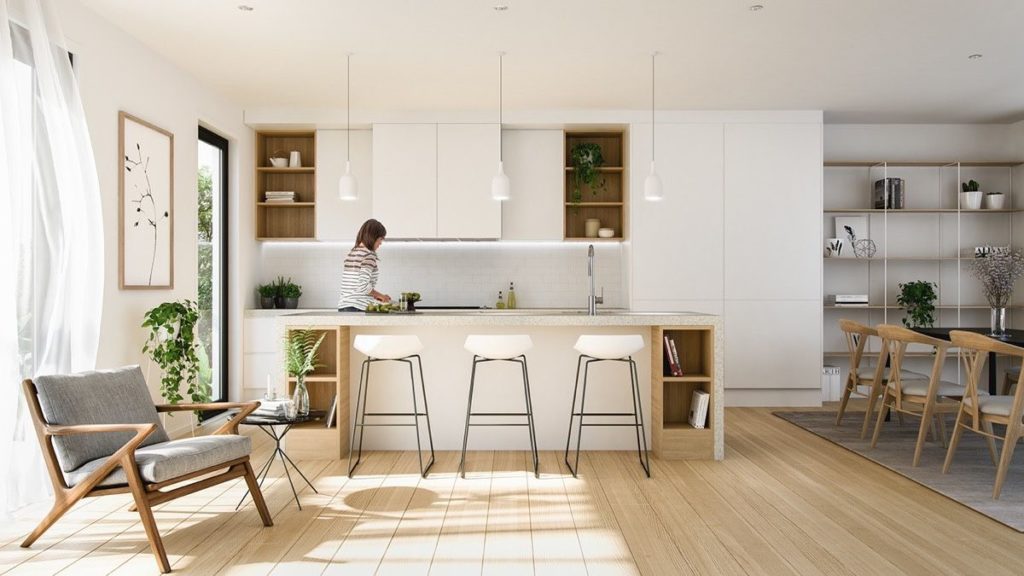 Get the look: Nudo Basic Table
Nudo Basic Table Sancal designed by Juan Ibáñez for Sancal is a dining table with a simple and linear design. The name Nudo refers to the knots found in wood in its natural state. A special hard wearing matt treatment gives the table a traditional wax-like finish, accentuating the natural grain of the solid oak top. The structure is made of oak wood and is available in a wide selection of colours. It's possible to choose the top in wood or in marble. The table is available square or rectangular in four different sizes in order to satisfay all needs.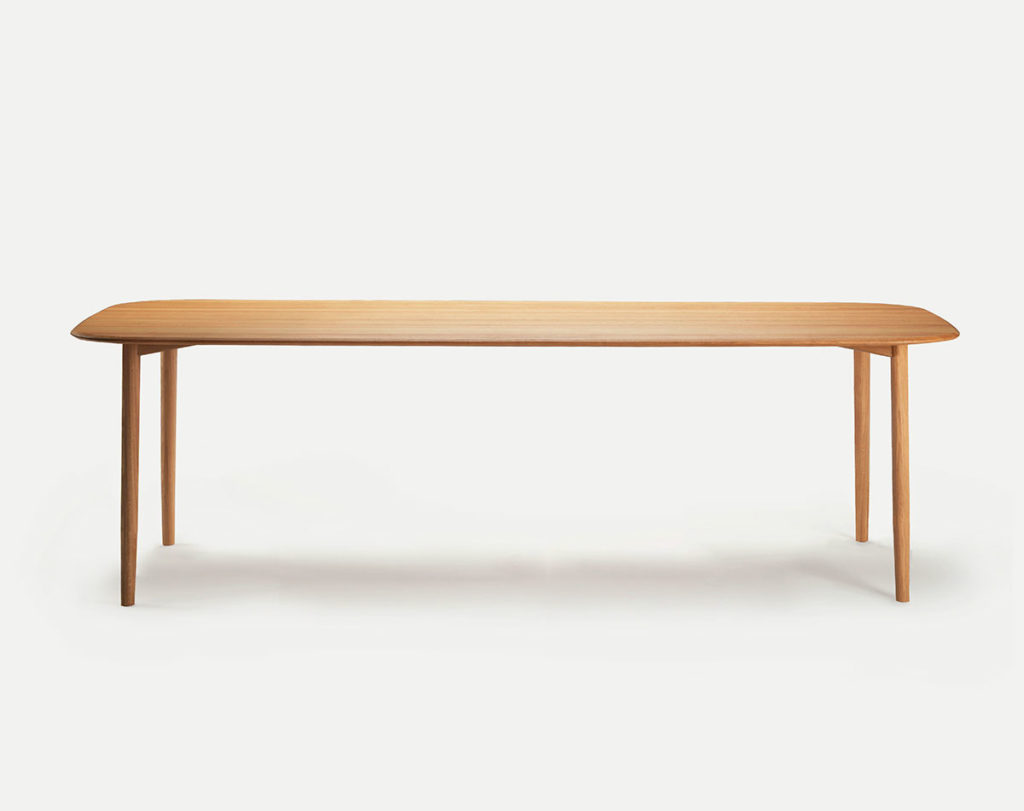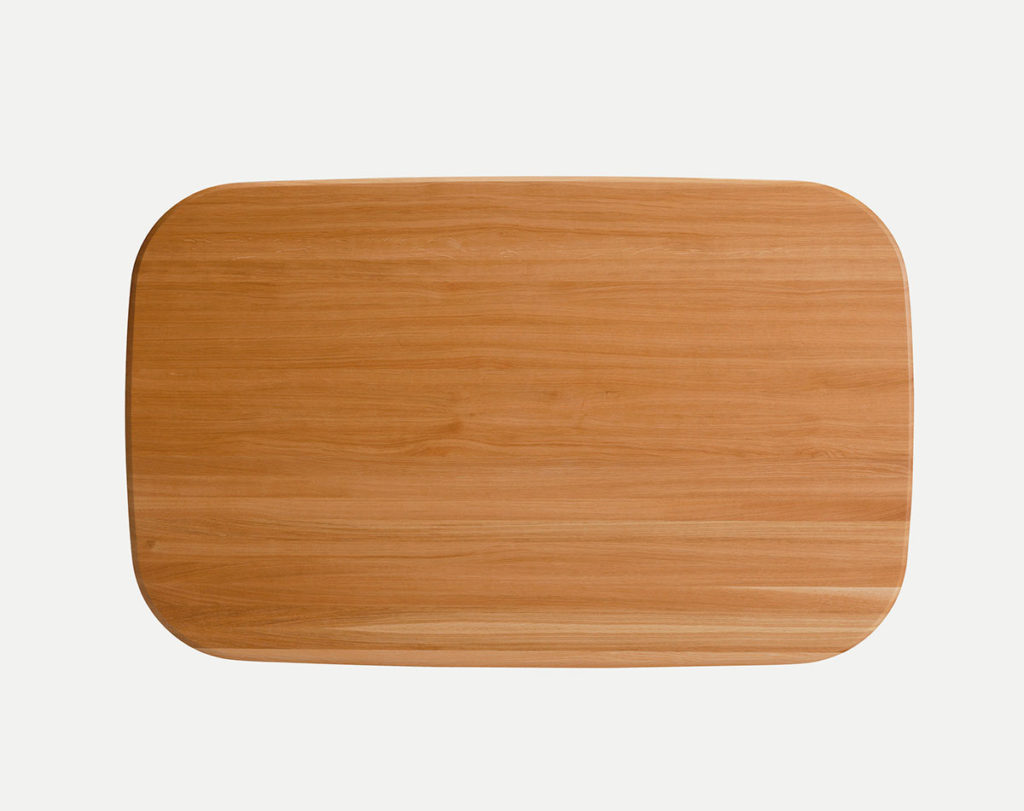 Get the look: Diverge Chair
The Diverge Chair Miniforms, designed by Skrivo, takes part of the new 2018 collection by Miniforms that has been presented for the first time at the Salone del Mobile in Milan this year. The design is simple but very modern: four wooden legs that with the form of a V letter, a minimal backrest and a comfortable seat available in ecoleather or fabric in a wide choice of elegant colours. The structure is available in four different finishings: black stained ash, anthracite stained ash, bleached ash and walnut stained ash. It's possibile to choose the fabric coating among: tramé, jeans, sponge, abstract, bubble and regal. The Diverge Chair Miniforms, with its Scandinavian style, is suitable for the decoration of minimal and cozy dining rooms.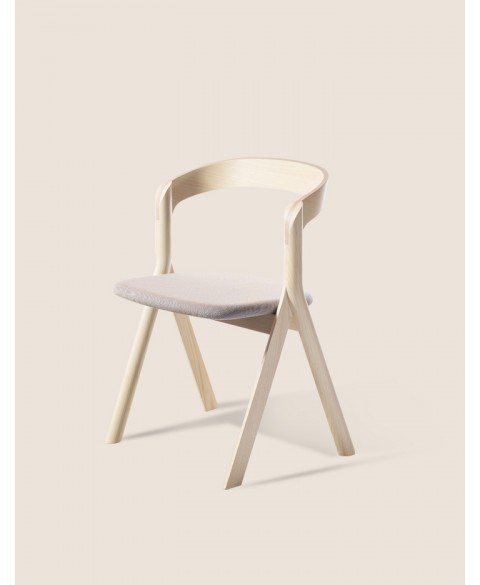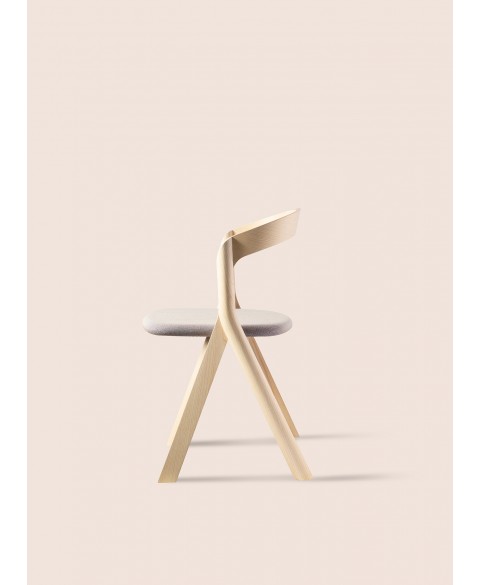 2 Living room
The very light wood that in its nuances goes as far as the warmest essences of the honey color, or the very dark wood, which can create very interesting contrasts, could be one of the most suitable solutions for those who want to give a touch of Scandinavian style to their living room. Avoid, for the upholstery of the sofa and armchairs, the too dark and heavy colors such as purple, burgundy red and bottle green … Focus on delicate colors such as pink, blue and soft yellow.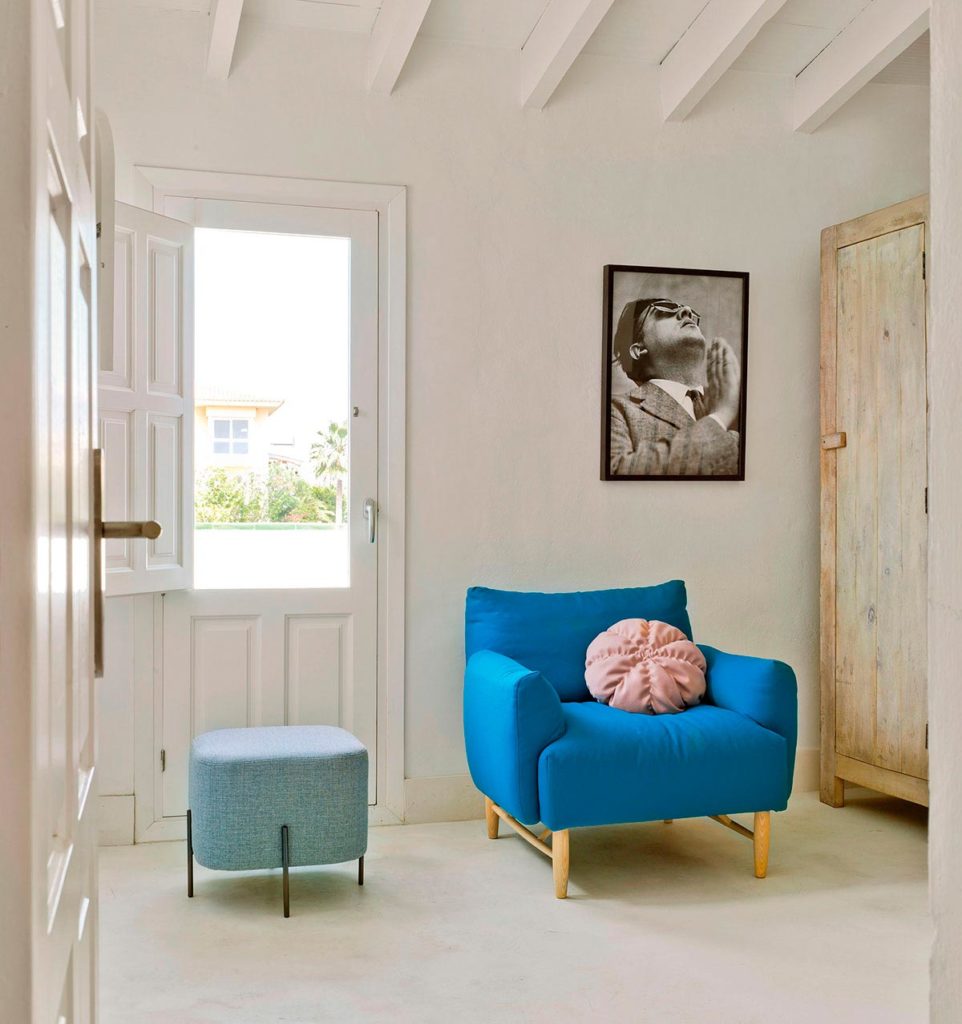 Get the look: Copla Sofa
Copla Sofa Sancal, designed by Rafa García, is characterized by shapely ash legs, and plump cushions which pay homage to the songbirds of Spain's traditional café theatres performing their "Coplas". By using the feet structure to join the modules, the seating structure has been reduced to the bare minimum, leaving space for plenty of comfortable filling materials while maintaining compact measurements. Copla Sofa Sancal is a welcome, inviting piece suitable for both domestic and public spaces. The casual, cosy look of its cushions and striking, 21cm tall, leg structure set the piece apart from the pack. The composition's generous array of elements, two different arms, three armchairs, twelve sofas, nine modules and a corner module, enable the design to be arranged to the needs of each project. The best way to create angle combinations is to simply use any of the high arm pieces, although there is also a dedicated corner module if required.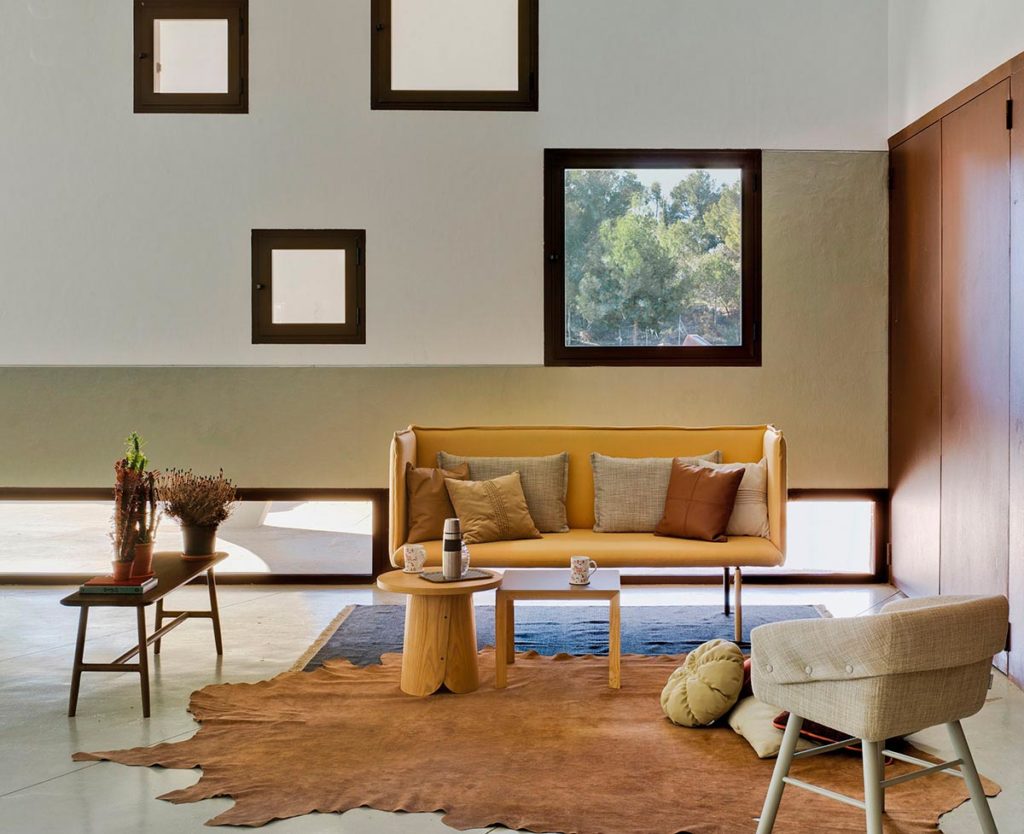 Get the look: Rew Sofa
Rew Sofa Sancal, designed by Rafa García takes part of a collection composed by upholstered armchairs, sofas and benches suitable for both residential and professional use. Its name REW is an acronym for rest-eat-work, indeed Rew sofa can be used for a variety of diverse projects that require pieces for resting, eating or working. Available in five different sizes and in various heights, the Rew Sofa Sancal can be upholstered in fabric or leather in a wide choice of elegant colours. Feets comes in 19 different stained colours of ash wood.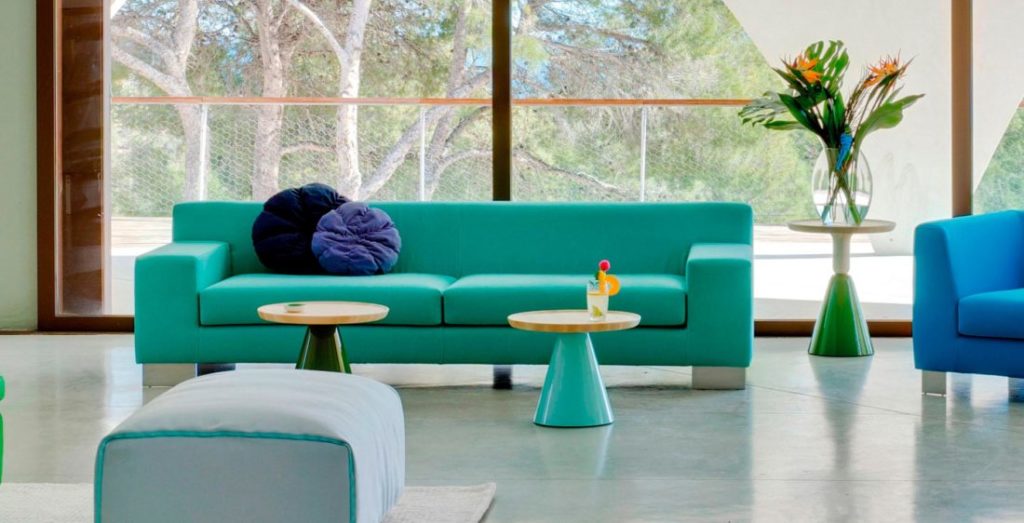 Get the look: K3 Sofa
The K3 Sofa Sancal, designed by Santiago Castaño, takes part of a large family composed by 3 different models of modern sofas and armchairs: K1, K2, K3.
The K3 sofa is characterized by a compact and dependable design and thanks to its clean lines it is suitable for all kinds of environments in any of its versions.
The integrated back cushion strengthens the design and gives a relatively deep seat with a compact overall depth.
The feet are available in aluminium finishing, coating comes in fabric or leather in a wide choice of elegant colours.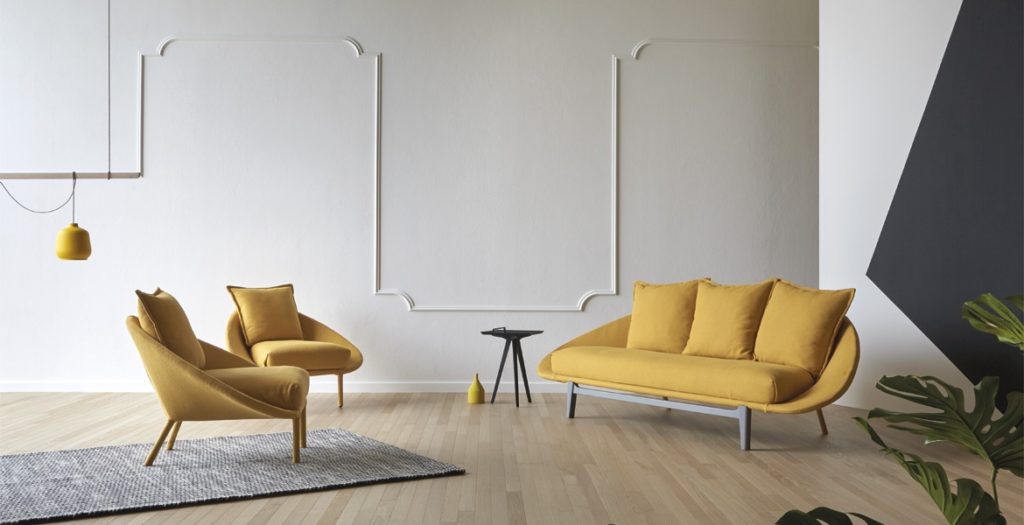 Get the look: Lem Sofa
Lem Sofa Miniforms, designed by Francesco Beghetto, is a soft and a sinuous collection composed by two sofas, an armchair and an ottoman; the tubular structure with the aid of straps, is fully covered in fabric without using foams. The soft seat cushions and backrest on the shell fabric ensure maximum comfort. Coating is available in tramé, twins, sponge, regal and abstract fabrics in a wide choice of elegant colours. Lem Sofa Miniforms is perfect for the decoration of modern living rooms.
3 Dining room
For the decoration of a dining room using too much wood combined with white or soft colors may be a wrong choice, as the environment would become too cold and aseptic. It is advisable, therefore, to play a little more with warm colors, with dark wood, with particular furnishings and design that can give personality and vigor to the space.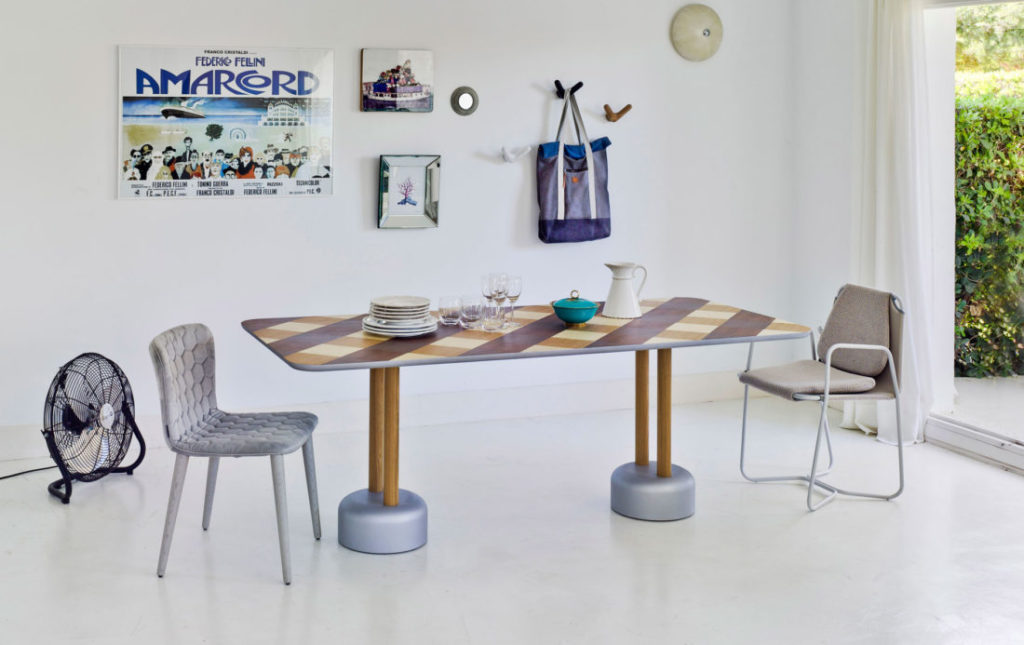 Get the look: Vichy Table
Vichy Table Sancal designed by the French duo BrichetZiegler for Sancal is a collection of tables, suitable for both private and public applications, that includes a dining table, two coffee tables and one side table. The design casts aside the bland conventions that have, until recently, been hidden under flowing tablecloths. Today's table designs have been laid bare by the trend for chefs to serve their creations on only the scantiest of placemats. Gingham fabric, or vichy in French, used to dress both people and tables for generations, lends the product more than just its name. This unmistakable pattern of squares has been replicated in oak, sycamore and walnut marquetry. Even if the restaurant shrouds the Vichy in a long table cloth, two slender solid oak legs will peak out cheekily, held in place by a shoe-like stand that will resist even the clumsiest of dates.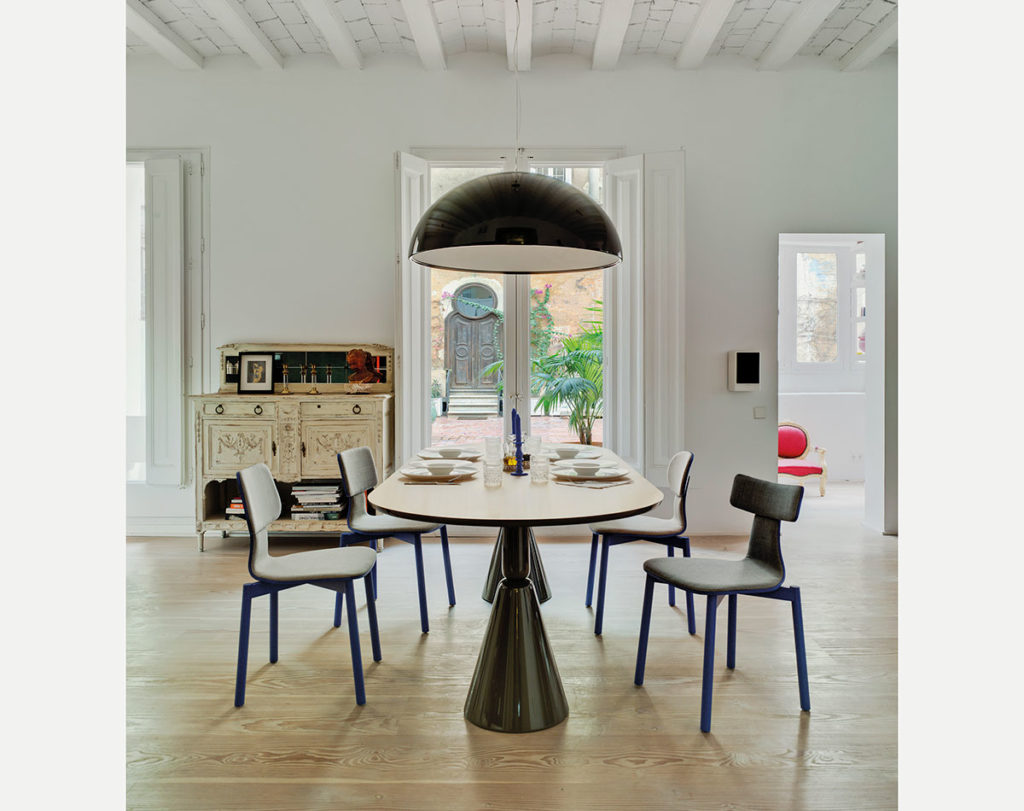 Get the look: Pion Table
Pion Table Sancal designed by Ionna Vautrin for Sancal is a collection of tables inspired by a chess set, indeed the finishes play with contrasts: high gloss for the base lacquers and a matt finish on the wooden tops. This collection includes dining tables, a stool and coffee tables of different sizes and shapes. The base colours are available in a selection of lacquers; Mustard, Olive, Peach, Sky-Blue and Shadow. This surface runs right the way up to the underside of the dining table top and is used only on the lower section of the foot on the occasional tables and stools. Solid slatted sycamore is used in the upper sections of the occasional tables and stools, and as a veneer on the dining tables. The tops are available in a Natural or a Shadow stain.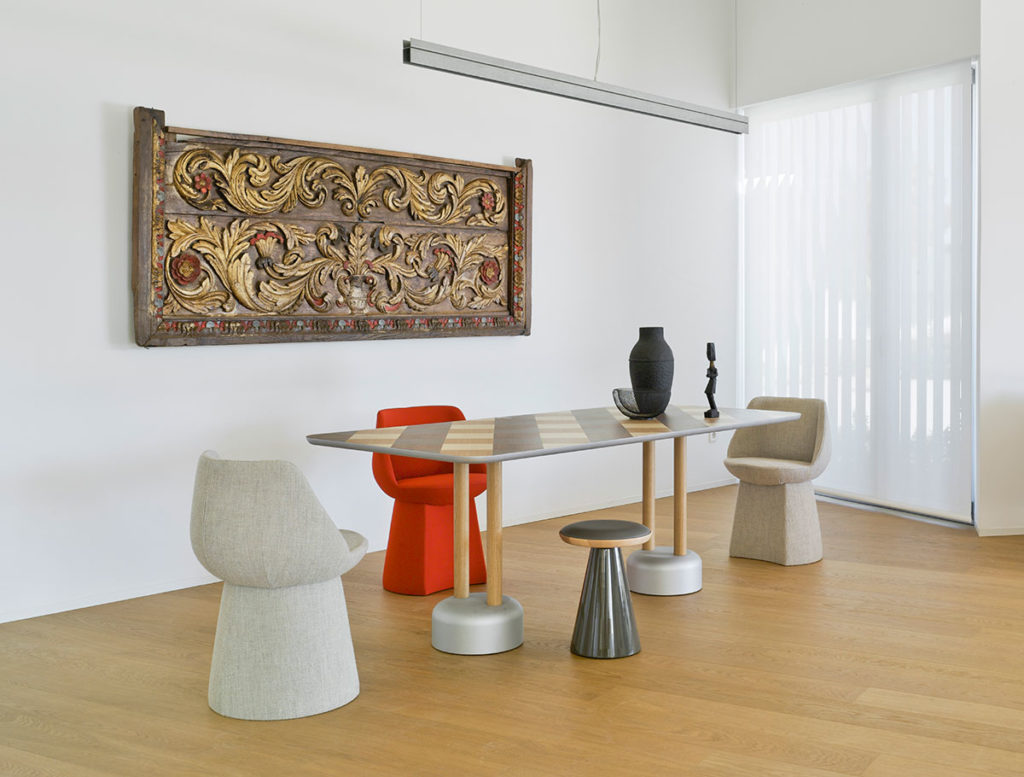 Get the look: Magnum Chair
Magnum Sancal, designed by EstudiHac's José Manuel Ferrero for Sancal is an elegant collection of  stools, lounge chairs and dining chairs suitable for both demanding public spaces and domestic use.
Magnum Chair Sancal pays homage to the very British elegance, indeed the designer has drawn inspiration from the glasses of cognac that members of exclusive London clubs cradle in their hands as they debate politics.
Magnum Chair Sancal is available in 4 different models: with upholstered base, with wooden feet, with metal feet and with lacquered central leg.
Available with fixed covers, the Magnum chair can be coated in fabric.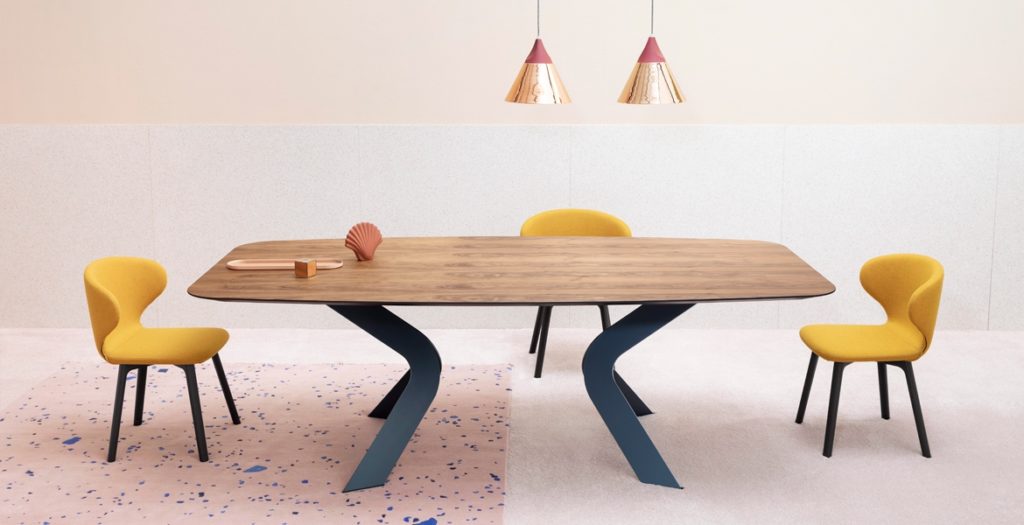 Get the look: Bipede Table
Bipede Table Miniforms is characterized by the legs that are screwed on triangular brackets which are on the table top and, from a technical element, becoming a decorative design element, indeed the transparent tempered glass seems suspended in the air. Easy to assembly, the structure is made of metal available in white, black, silver or bronze colours. Bipede Table Miniforms is only available in the fixed version in two sizes and can be well combined with Chic Chair
4 Bedroom
In the bedroom the furniture has to relax and reconcile sleep. It is therefore not possible to use solutions that are too bright and tiring for the eyesight, which in the long run would only risk being irritating. So it would be better to dose the use of wood, which would create an environment too warm, almost suffocating and the use of white color that would make the bedroom too bright, almost blinding.
It is advisable to opt for large, enveloping beds covered in soft fabric, minimalist, essential furnishings and accessories and to choose relaxing colours for the eye, such as blue, grey, pale pink and green.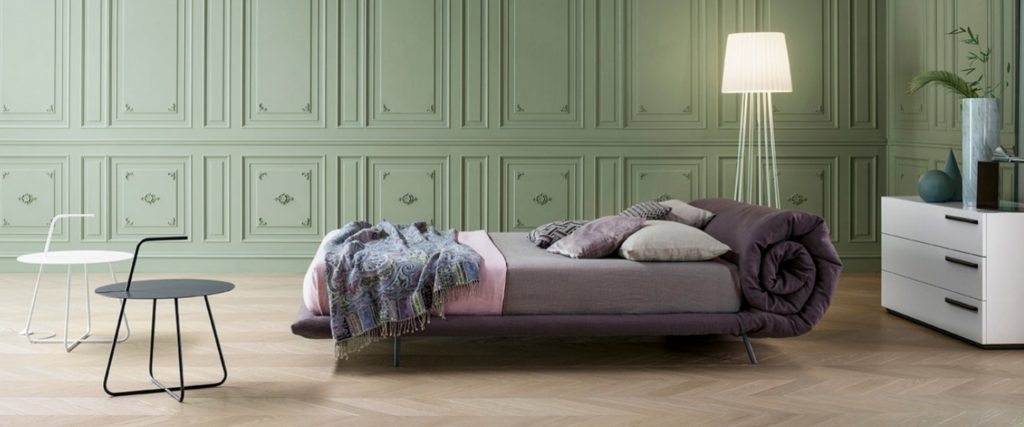 Get the look: Blanket Bed
The Blanket Bed Bonaldo, designed by Alessandro Busana, is an extremely comfortable and enveloping double bed characterized by a particular and original design. Warmth, softness and a sense of protection are the feelings which inspired the Blanket Bed thanks to the wide roller headboard made with a blanket that is available in various colours of fabric.
The components have been inverted and the blanket has been transformed from  a mere accessory to an absolute star. Indeed, a large, soft quilt makes up the base of this bed, supporting the mattress and, at the foot of the bed, it has been folded over and then rolled up at the top end to form the headrest.
The feet of the Blanket Bed Bonaldo are available in three different elegant finishings: matt white, matt dove grey and matt anthracite grey.
The Blanket Bed, thanks to its unique design can be also placed in the centre of a room giving a touch of exclusity to the environment.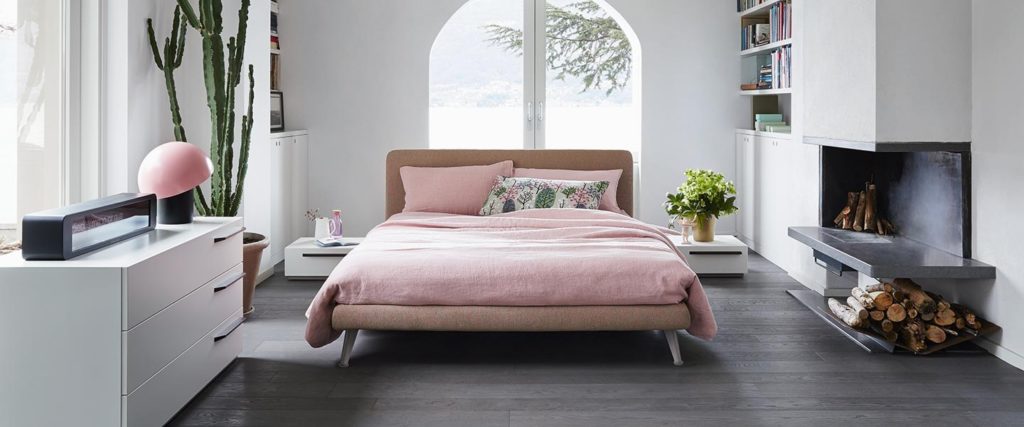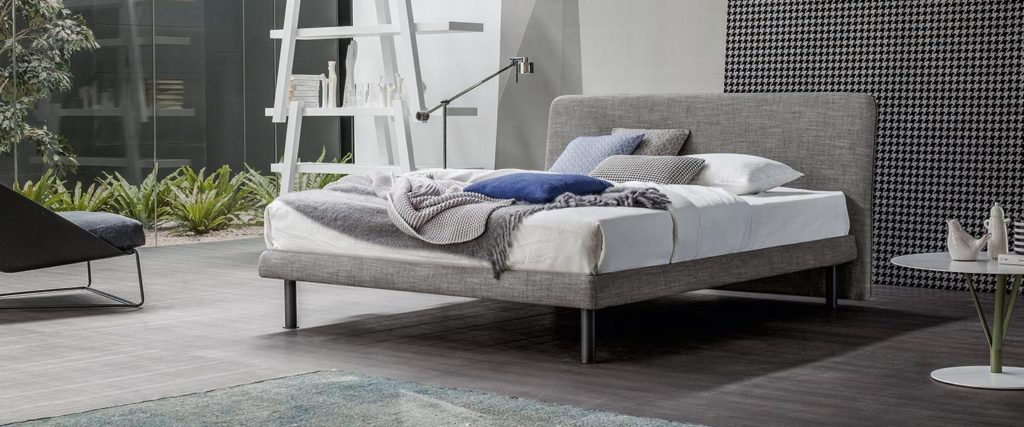 Get the look: Dream On Bed
Dream On Bed Bonaldo is a modern and linear bed with a simple and essential design, for this reason it is ideal for the decoration of adult's or child's bedrooms. It is available in two versions: with double or single base. Feet are available in four versions (and a set of two wheels) and there is also a version with a quilted headboard (Dream On Ego Bonaldo). It's possible to choose among leather, eco leather and fabric coatings available in a wide choice of colours. Covers are completely removable. A decorative border runs around the perimeter of the bed.
5 Bathroom
The combination of light wood and white is ideal for bathroom furnishings, as it makes the room bright but welcoming at the same time. The style will be clean, essential and modern and will be able to revolutionize, with a few tricks, the entire space.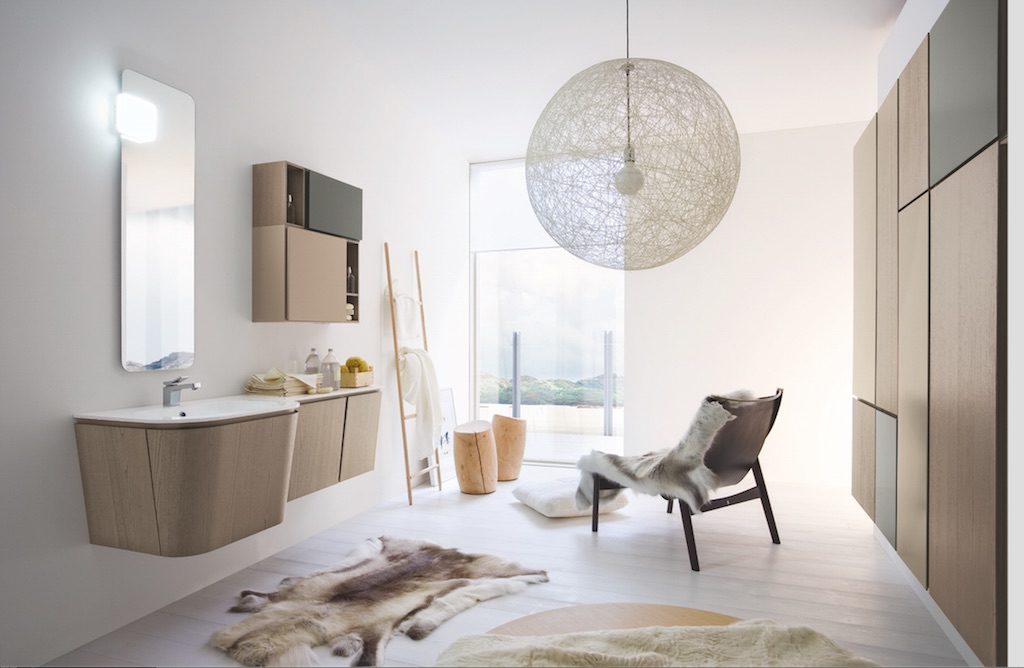 Get the look: Tab Stool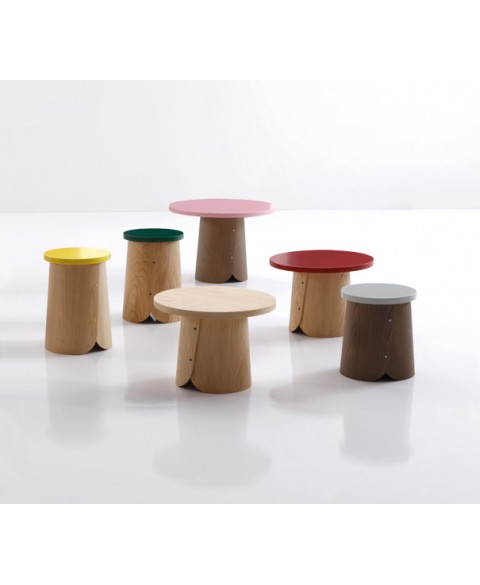 Tab Stool Sancal takes part of an original and modern collection composed by two stool and four side tables. The entire collection was designed by the famous Studio Nadadora for the Spanish company Sancal. The designer was inspired by 'trobos': a Spanish word that describes hives made from hollow logs, typical throughout the north of the Iberian Peninsula. The base is always a curved chestnut veneer available in a choice of six different colours.The top comes in chestnut veneer or in lacquered wood in a wide choice of elegant colours.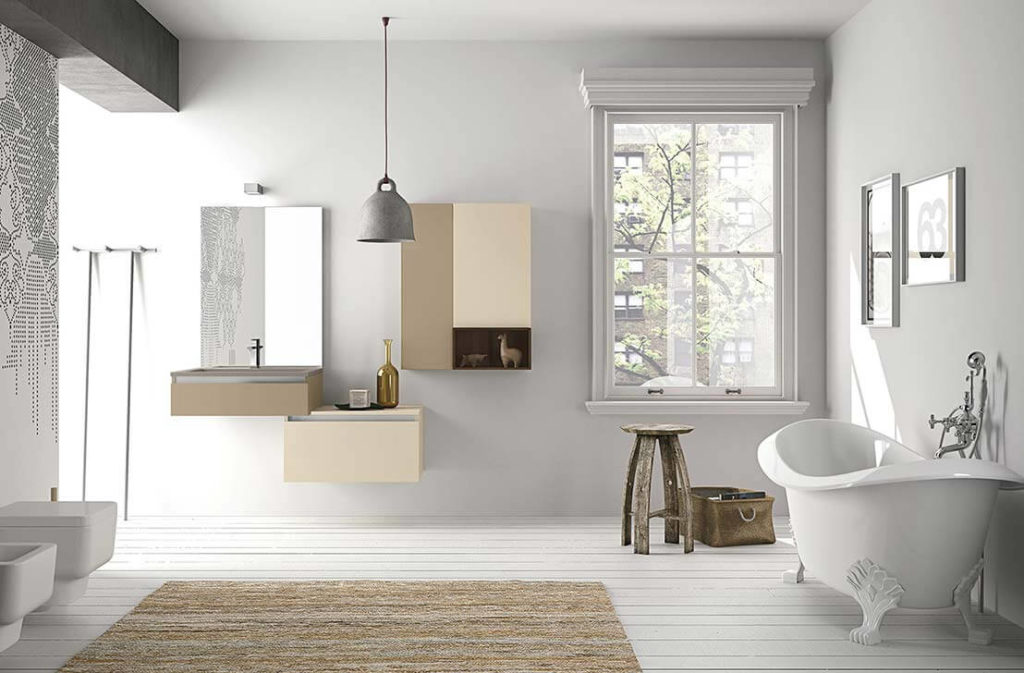 Get the look: Tortuga Side Table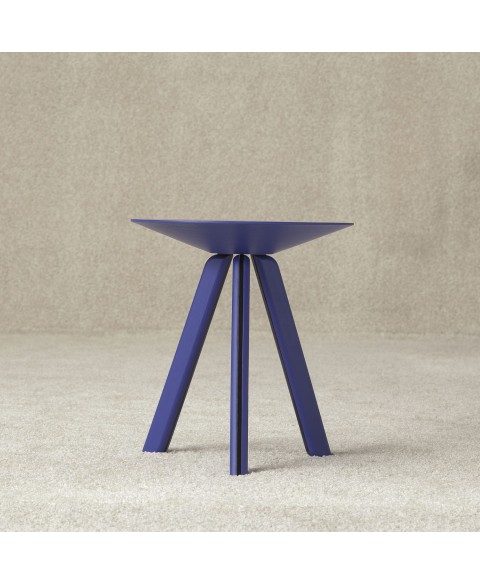 The Tortuga Side Table by Sancal, designed by Studio Nadadora, takes part of a large furniture collection composed by a big and a smaller armchairs in addition to a modern round side table suitable for the decoration of living rooms. The entired collection was inspired by the Galapagos Tortoises, that's why the name Tortuga. The Tortuga Side Table is made of ash wood and available in 19 different elegant colours.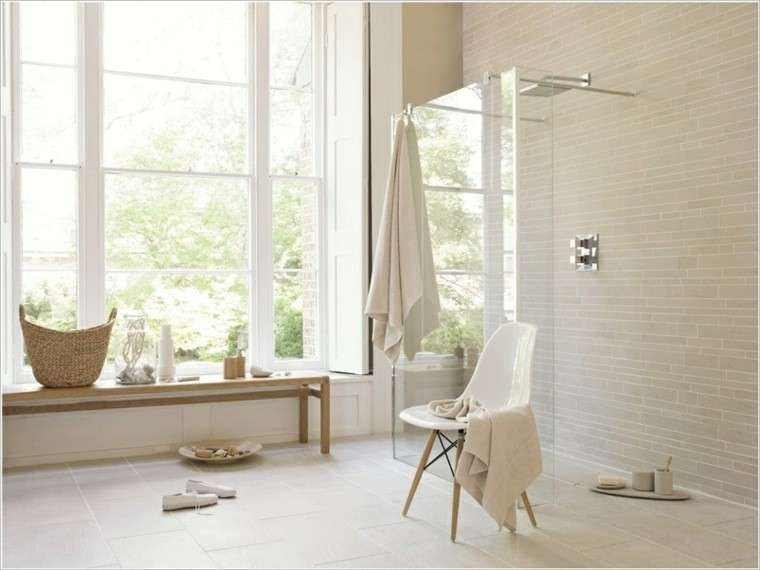 Get the look: Plastic Chair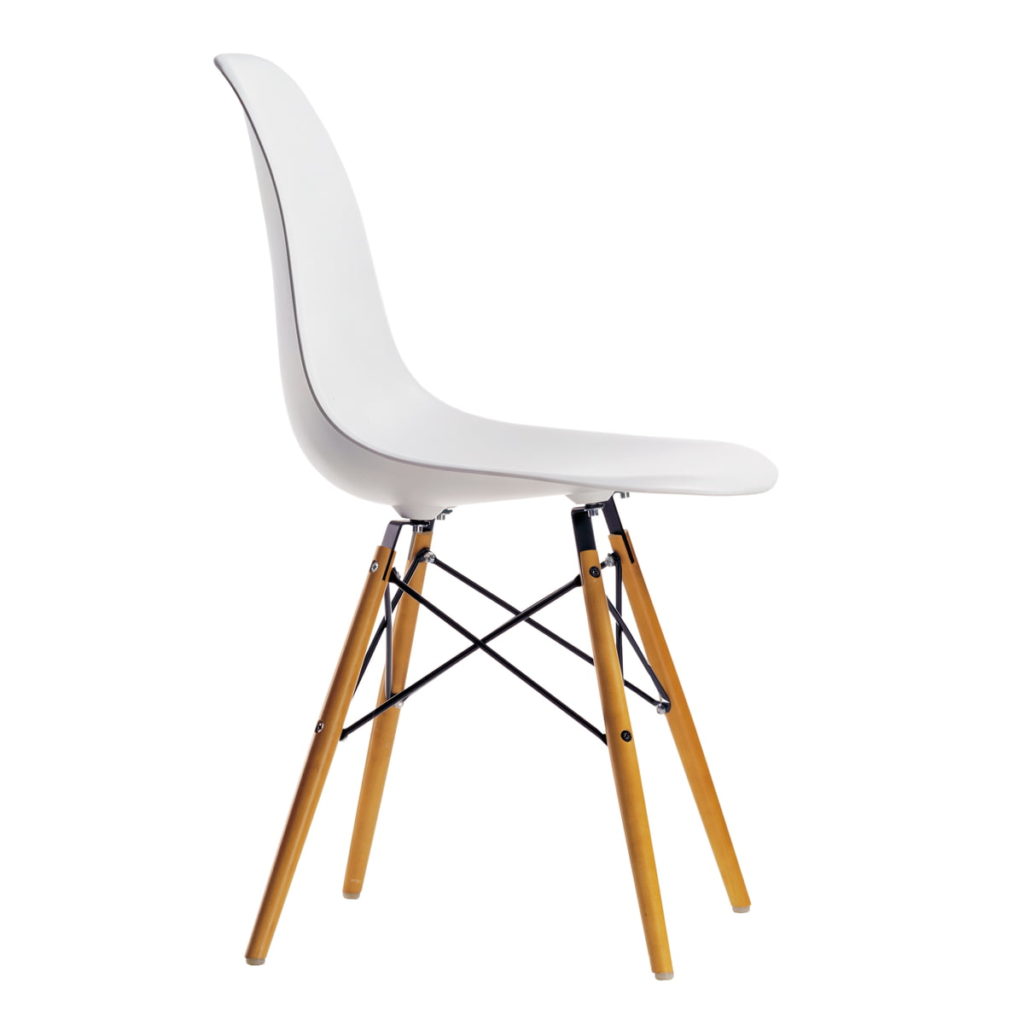 Plastic chair designed by Charles and Ray Eames for Vitra is a famous collection of chairs suitable for dining rooms, living rooms, home offices, conference rooms, office workplaces, terraces or even gardens. It combines the mouldability, rigidity and pleasant tactile qualities of the plastic material with a clever design, indeed the one-piece seat shell moulded fits perfectly the contours of the human body. The shell can be joined with a wide selection of bases and coatings. An especially striking model, called Eiffel Tower base and characterized by an intricate and graceful design made of steel wire that inimitably combines lightness, elegant forms and structural strength is available too.
If you liked our article "5 ideas to furnish your home with the Scandinavian style", have a look at our cozy furniture shop: Lomuarredi