Homage to Carlo Mollino, one of Turin's most important and visionary architects of the recent history.
Carlo Mollino, an extraordinary case of designers not linked to industry.
With the first exhibition dedicated to his immense photographic heritage at Camera-Centro per la Fotografia in Turin from January 18 to May 13, more than 500 photographs taken between 1934 and 1973, many of them unpublished, divided into 4 sections that well tell the nature and eclecticism of the always surprising Mollino: "Thousand houses" with images related to the theme of living;"Fantasies of a possible everyday life" with images of surrealist inspiration, and many mirrors, a subject he loved very much; "Mystic of acrobatics" dedicated to immortalize the movement, flight, ski, sports body;"The Duke's lover" with 180 photos of bodies, especially female, many made with his mythical Polaroid.
Photographer, graphic designer, engineer, scenographer, great sportsman, he created, starting in the 1940s, innovative architecture and furniture but not adaptable to a series production. The designed furniture contains numerous innovations on techniques and materials, which are developed in the unique piece. For Mollino, the environment is a scenography of existence and suffers from surrealist suggestions.
Carlo Mollino was re-evaluated after his death. His furniture is now on display at the Moma (Museum of Modern Art) in New York and at the Victoria & Albert Museum in London. At least some of the most interesting prototypes designed by him were then reproduced in series for example the Cavour Desk Zanotta
Casa Orengo Desk Mollino.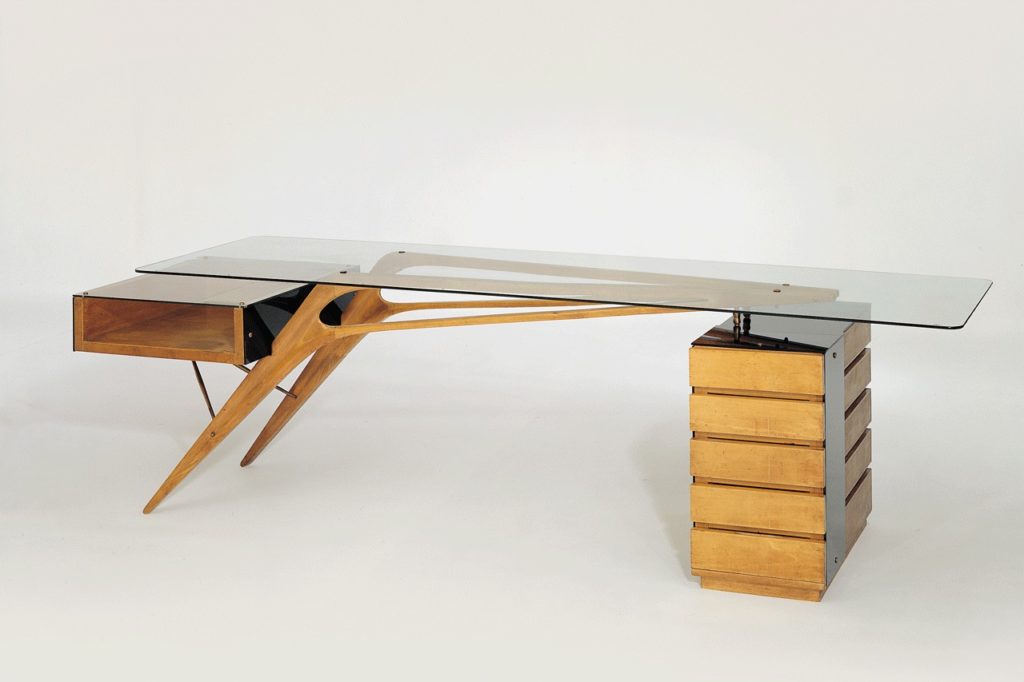 The table "Arabesco" (1950), whose silhouette recalls a feminine body, the table "Reale" (1949), of aeronautical derivation, as well as the lamp "Cadma" (1947), which recalls the shape of a propeller, and the armchair "Gilda" (1947), of hi-tech taste before litteram…
Arabesco Table Mollino.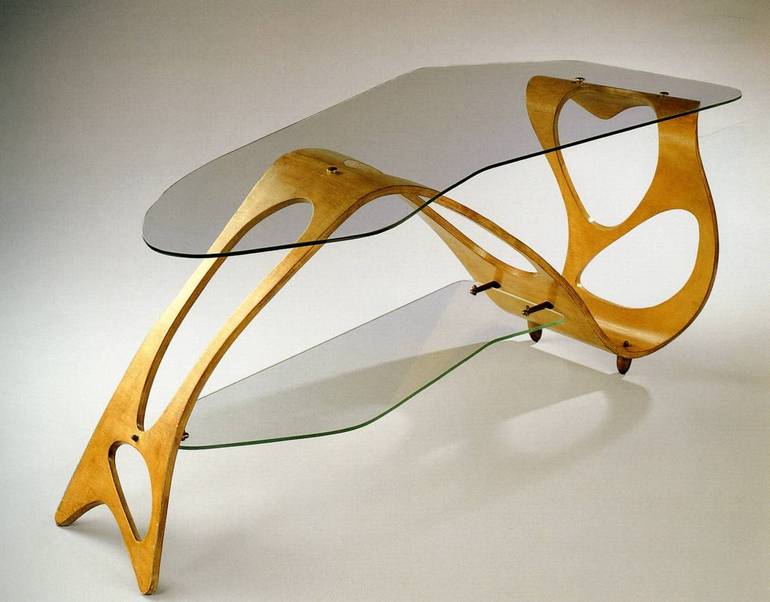 Cadma Lamp Mollino.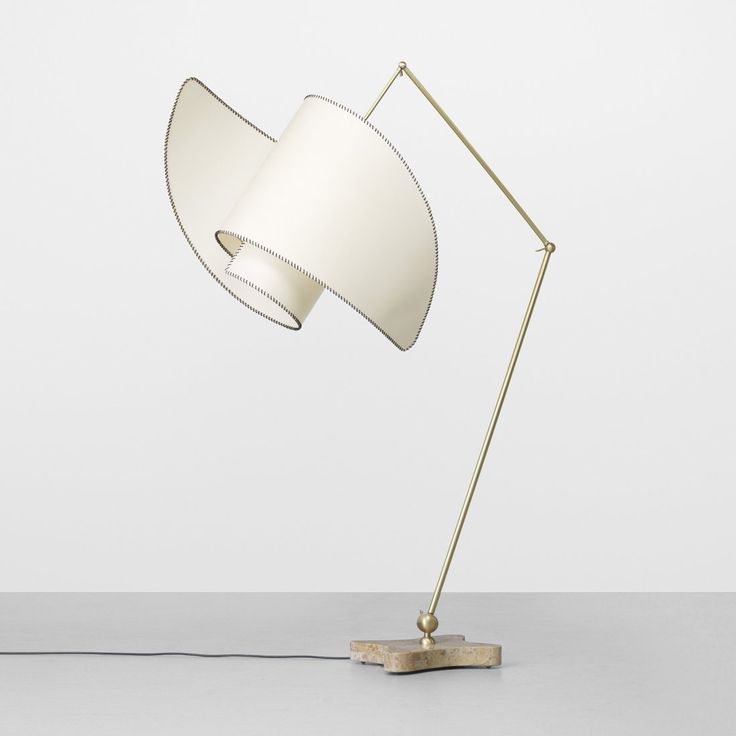 Carlo Mollino was born in Turin on May 6,1905 and inherits from his father the perfect craft of building and the versatility of his interests that will determine the stereotype of genius and unruliness, never abandoned.
In a professional life that deeply reflects his eclectic and elusive personality, and which it would be reductive to recognize under a single form (architect, designer, photographer, urban planner), Mollino's itinerary can be chronologically articulated in different phases. From the beginnings to the forced rest due to the war, in which he deals with furniture and living patterns, to the post-war works.
The Black Lake Station of Sauze d' Oulx (1946-47) and other mountain buildings, the splendid accommodation of private accommodation – Miller, Devalle, Minola, Rivetti in Turin of 1938,1938-39,1944-47 and 1949 – "surreal and clandestinely evocative worlds" as Mollino himself recognizes. Then the escape into automobile and aeronautical activity, followed by the death of his father – 1954 interrupted by the project for the ballroom Lutrario (1959), an alternation of lights, reflections and transparencies that materializes in a free and playful expression.
The last decade of Mollino's life will be dedicated to the Turin projects of the Palazzo degli Affari of 1964-72, a courageous attempt to transpose the matrix of suspended structure of mountain buildings into the urban context, and for the Teatro Regio, with which he expresses – as Irace notes – his architectural poetics in a synthesis that is almost aware of the imminent end.
Bisiluro Car Mollino, Le Mans 1955.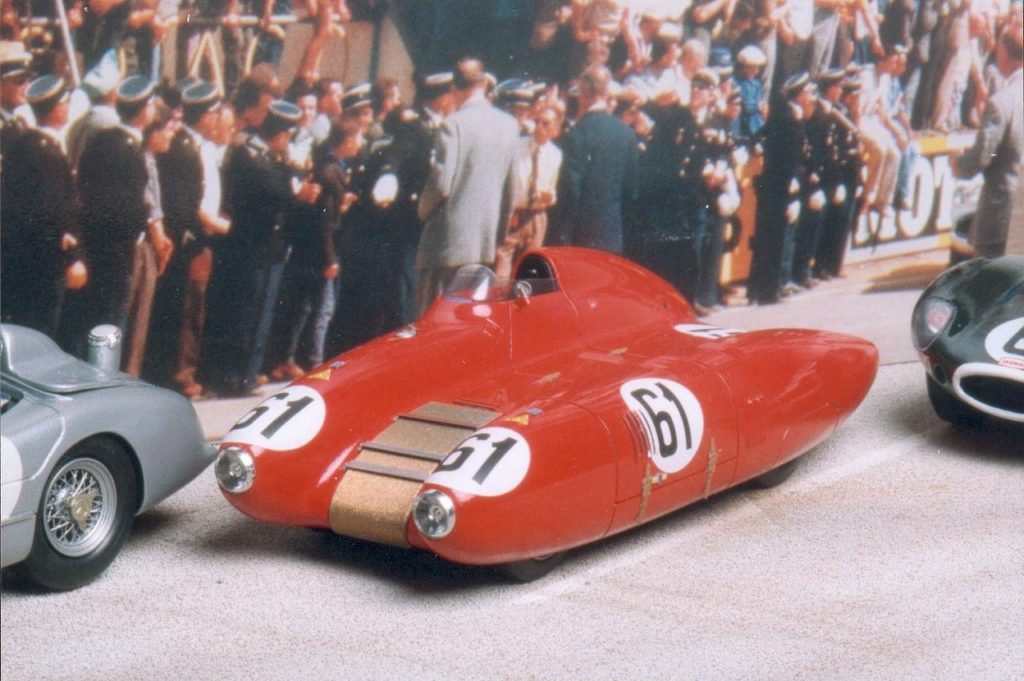 The eros in Polaroid format.
Immediate shots, which capture the woman in her physicality,"dissecting" the body and exalting the erotic charge of the models. This appears in the Polaroid by the architect and designer from Turin.
More than 2000 female portraits with a high erotic content. Shooting with a Polaroid between 1960 and 1973. The most intimate and naive soul of the architect, designer and photographer Carlo Mollino (1905-1973) from Turin is contained in these shots. Immediate and physical. And above all kept secret, kept inside simple white envelopes stored in the house, in an antique furniture.
The author considered these photographs to be of great importance. To the point of having created an ad hoc location for them: Villa Zaira, on the hills of Turin. A place that the author used only on certain occasions and very different from his daily home. The set was minimalist: stairs, curtains and chairs. Symptom of a precise photographic project.
Subjects almost always appear as mere photographed bodies, something that remains suspended. Often the ladies are depicted standing, but sometimes they rest on chairs or stools. Mollino's intention is "to dissect nudity", starting with the marked eroticism emanated by his models. The woman from Mollino reveals herself unambiguously. An unveiled or artistically covered wholeness, in compositions that arouse a vague impression of photocard, obtained in part by the intentional absence of background and their apparent randomness.
Polaroid Mollino.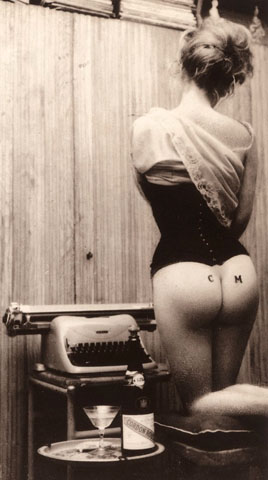 Polaroid Mollino.