Interior design projects by using the textile folding doors as the main decorative element.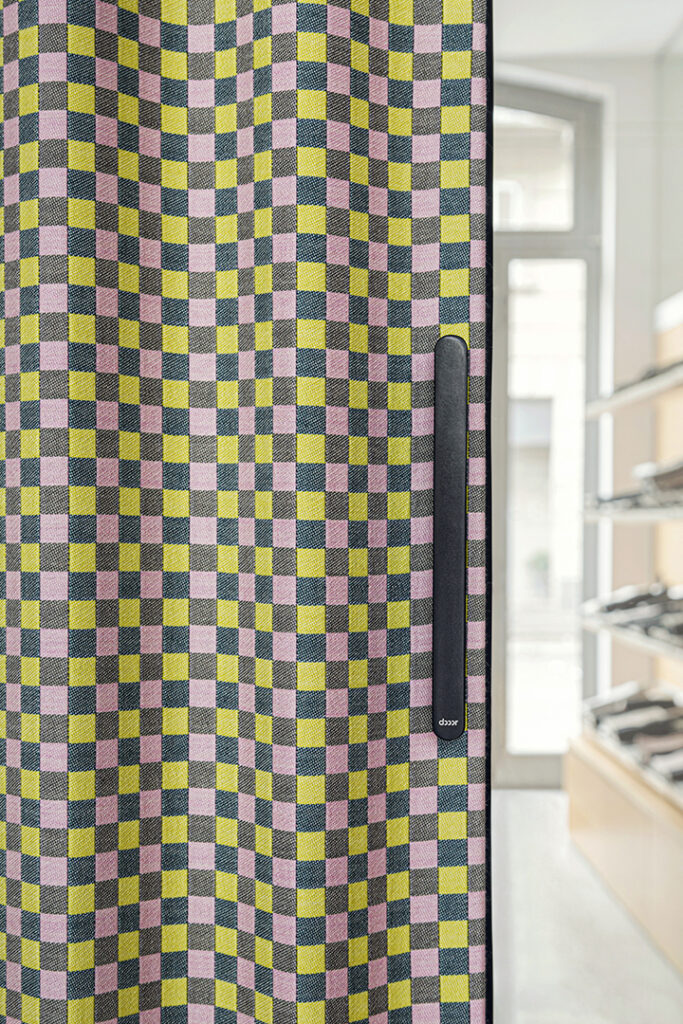 Textile folding doors opening systems are designed to highlight different types of environments. Small spaces and limited widths prefer doors that open sideways.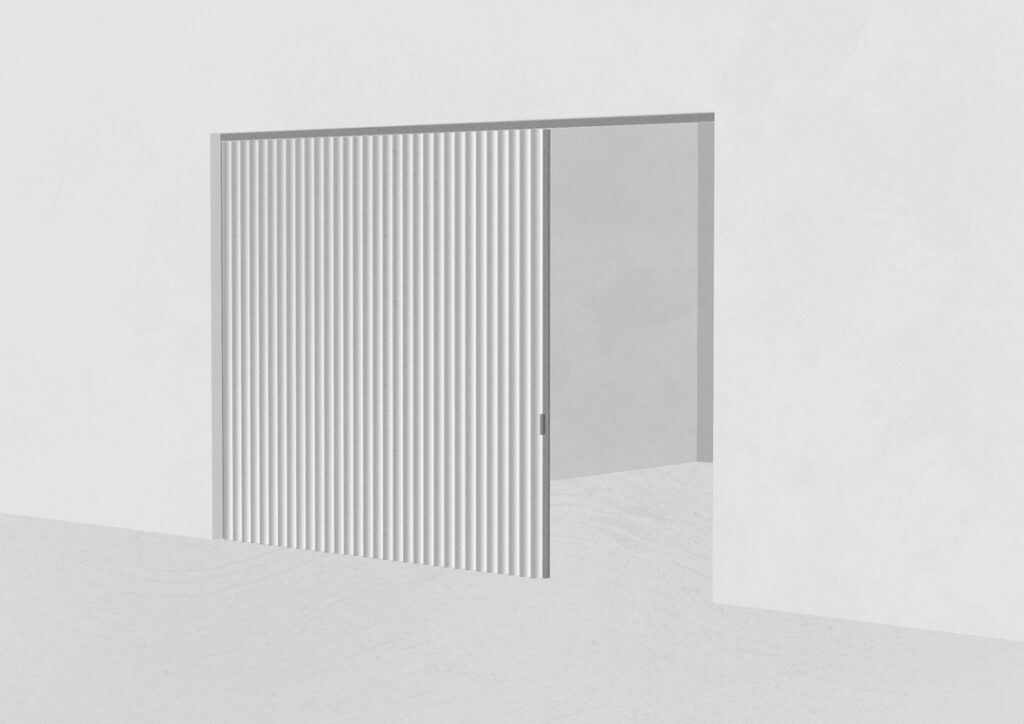 Double-sided opening allows the space to be used in its entirety, thanks to the characteristic double passage. If applied to wardrobes, it allows the use of 100% of the capacity.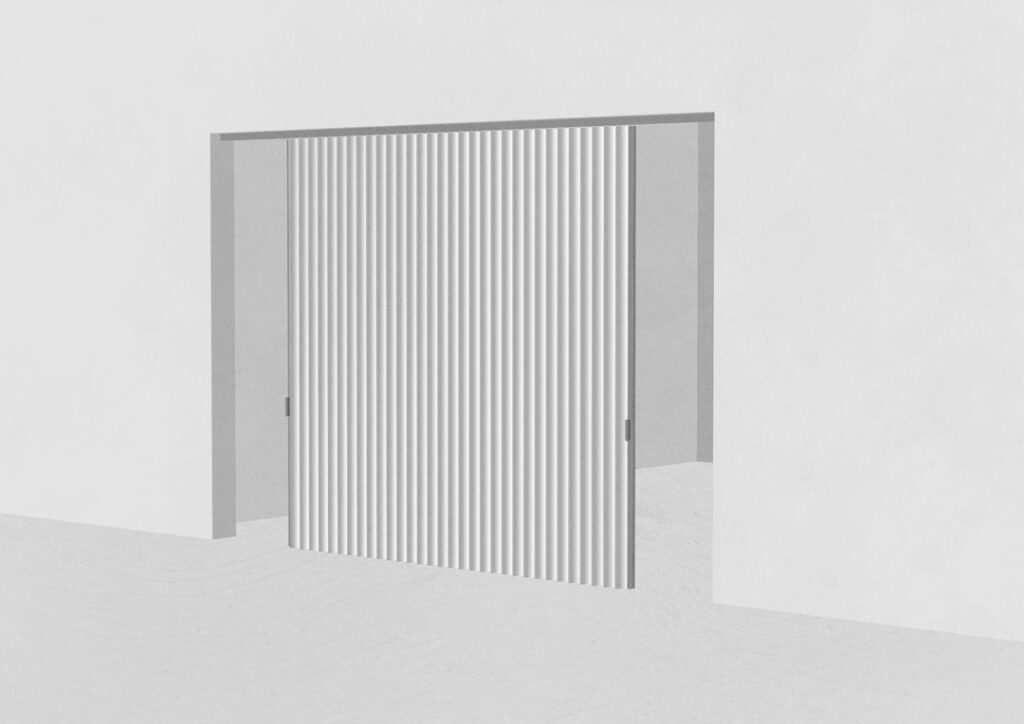 The central centred opening is suitable for very large rooms and has the task of creating a central passage point that varies according to need. Two side elements complete the picture, framing the whole.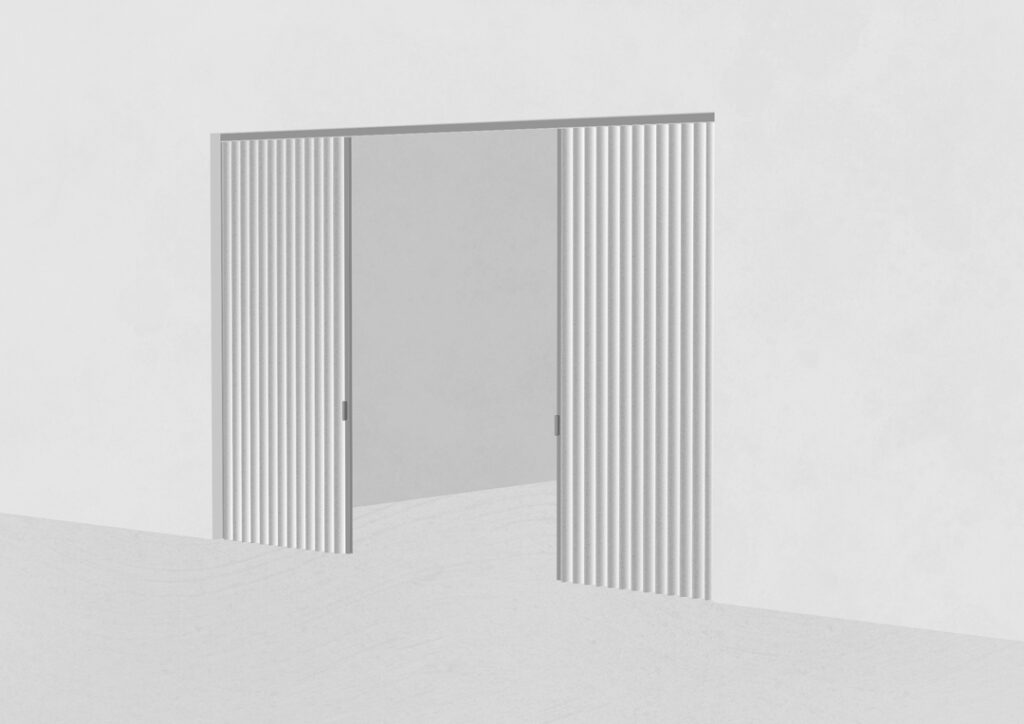 The decentralised central opening is the answer to a specific need, required according to the space in which it is inserted.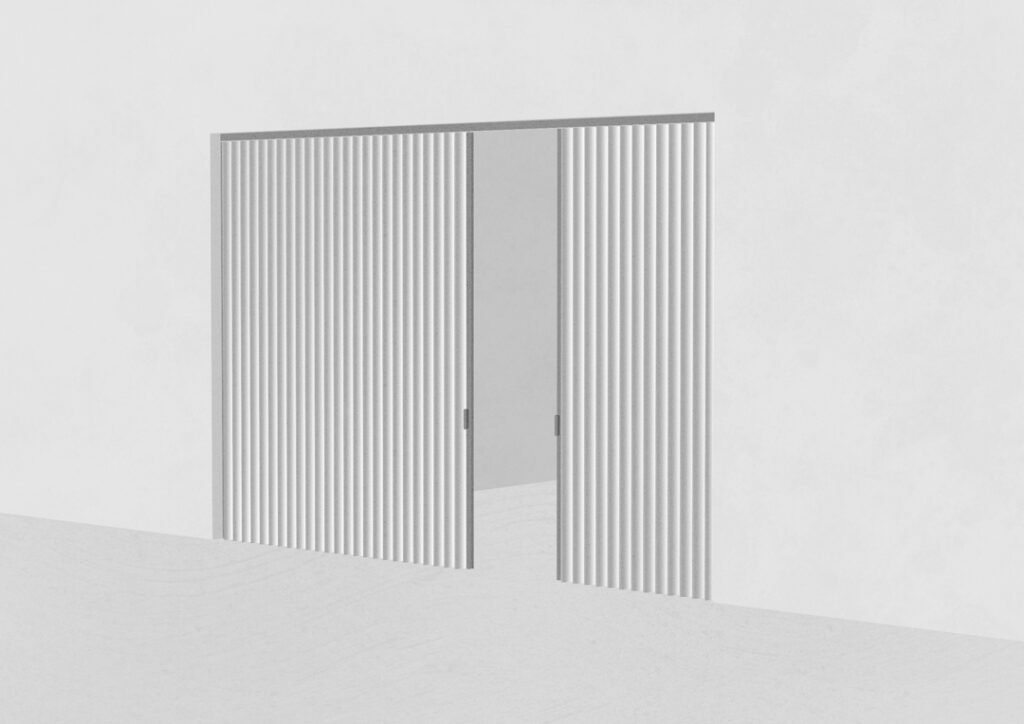 The multiple opening guarantees maximum versatility and functionality: it is designed to be complementary to all the systems described above. In large spaces it has a double task: to give the right balance to each element and to increase its usability.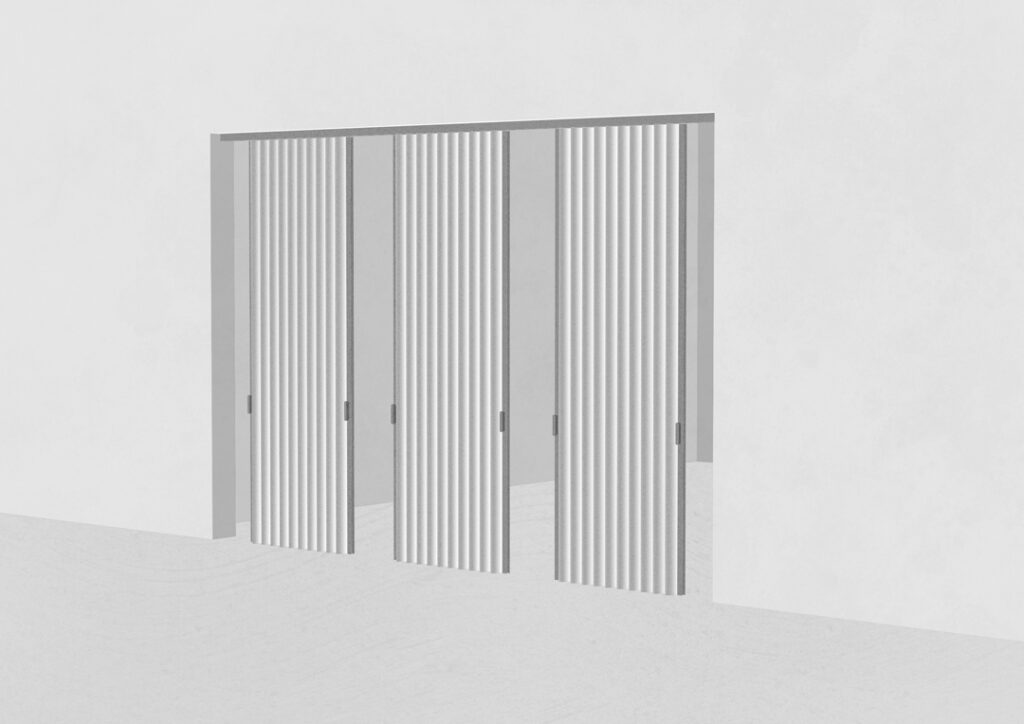 Let's take a look at some projects by famous interior designers who have chosen the textile folding doors either as a purely decorative element or to separate spaces in order to create visual privacy.
The walnut flat
"Purity is not in the absence of form. It is found in the exaltation of light and surrounding forms. In this private home designed by wok studio, Dooor combines the warmth of walnut with the composure of white surfaces through delicate waves and a neutral texture. A reconfigurable surface softens the austerity of wood and accommodates a flexible way of living."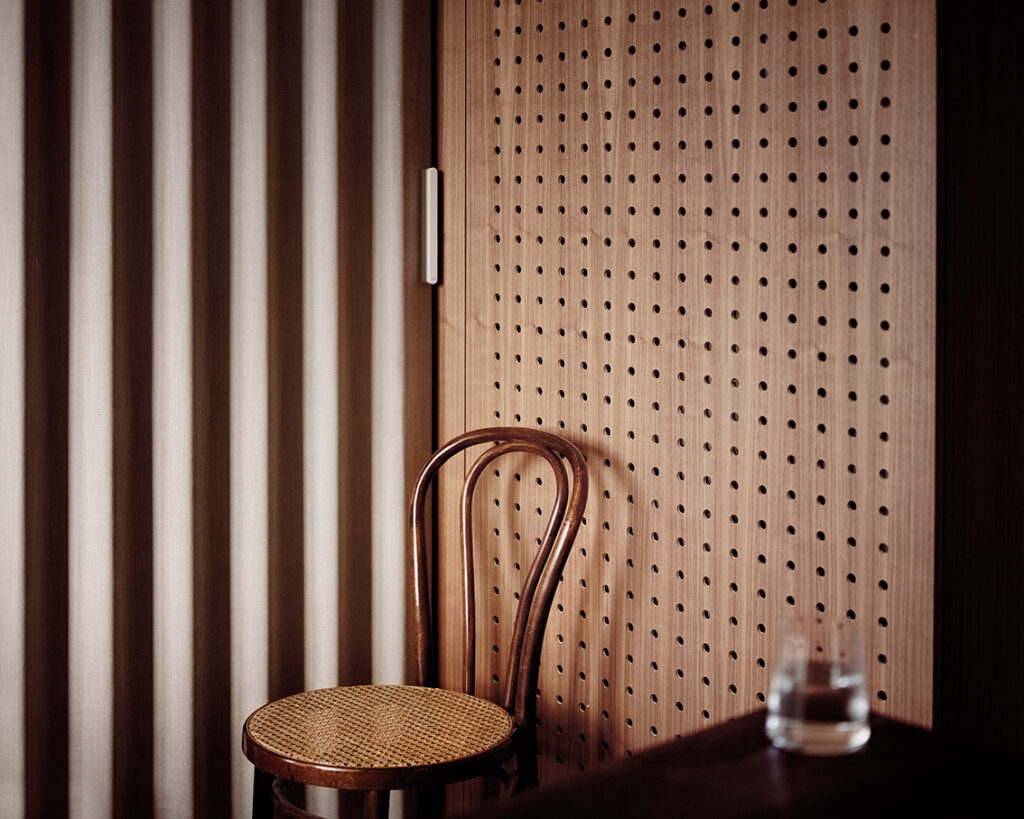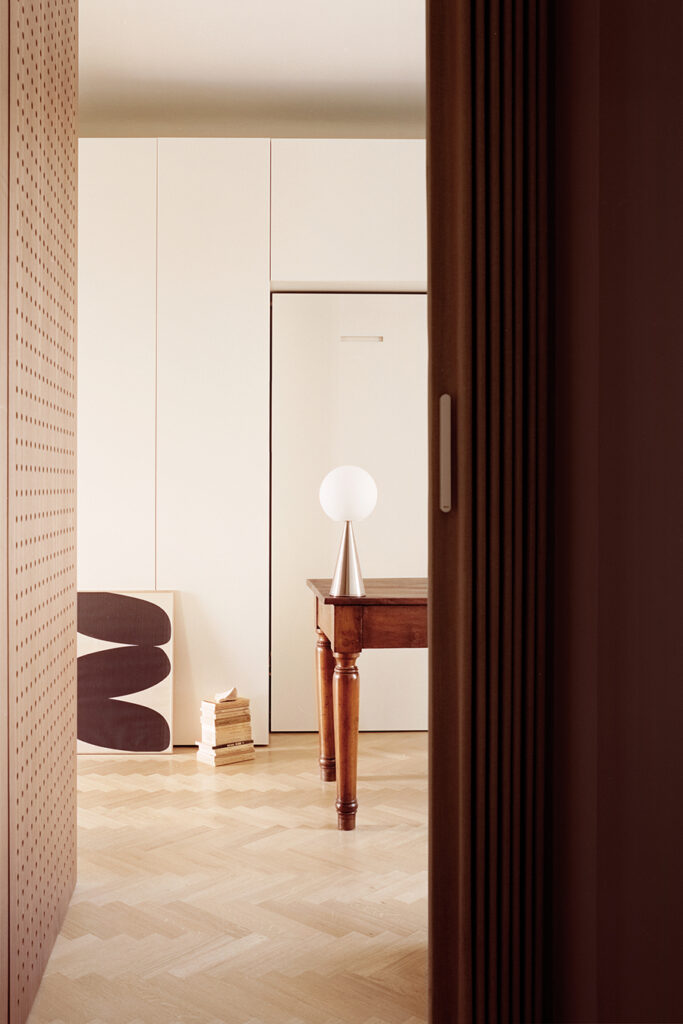 Darkness & Light // Park Associati
"Light dominates the intimacy of "Darkness & Light", the dressing room designed by Park Associati for "Vietato l'Ingresso", at the Teatro degli Arcimboldi in Milan on the occasion of Design Week 2021. The atmosphere where the artists conjure up their ideas and thoughts is dark: the light enhances the intimacy of the typical dressing room experience and creates a comfortable nest where a formal symphony is performed for the guests."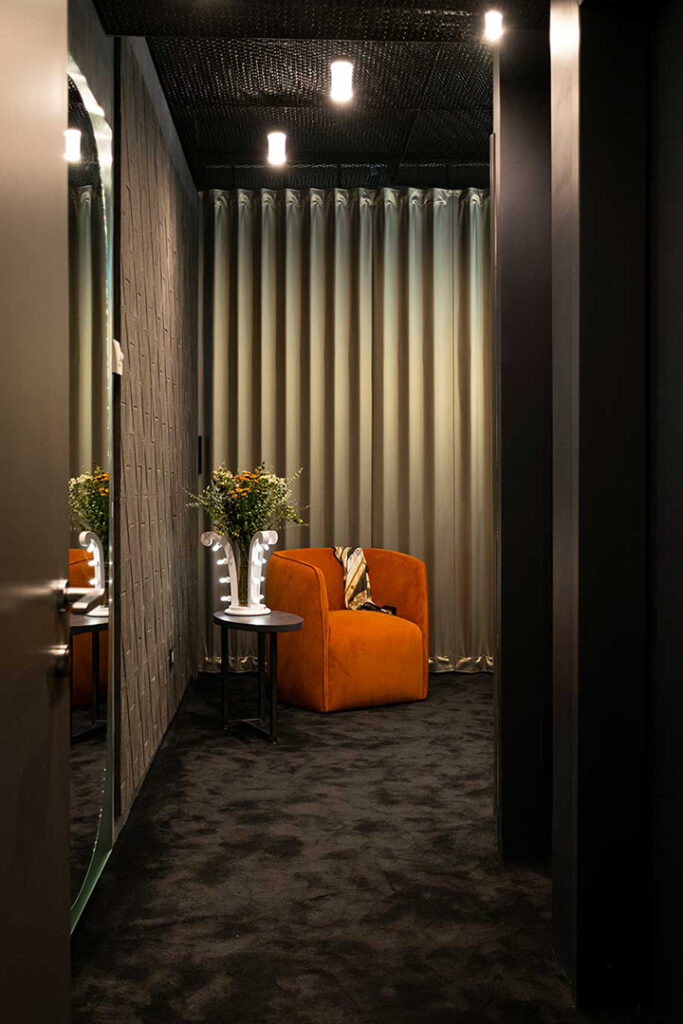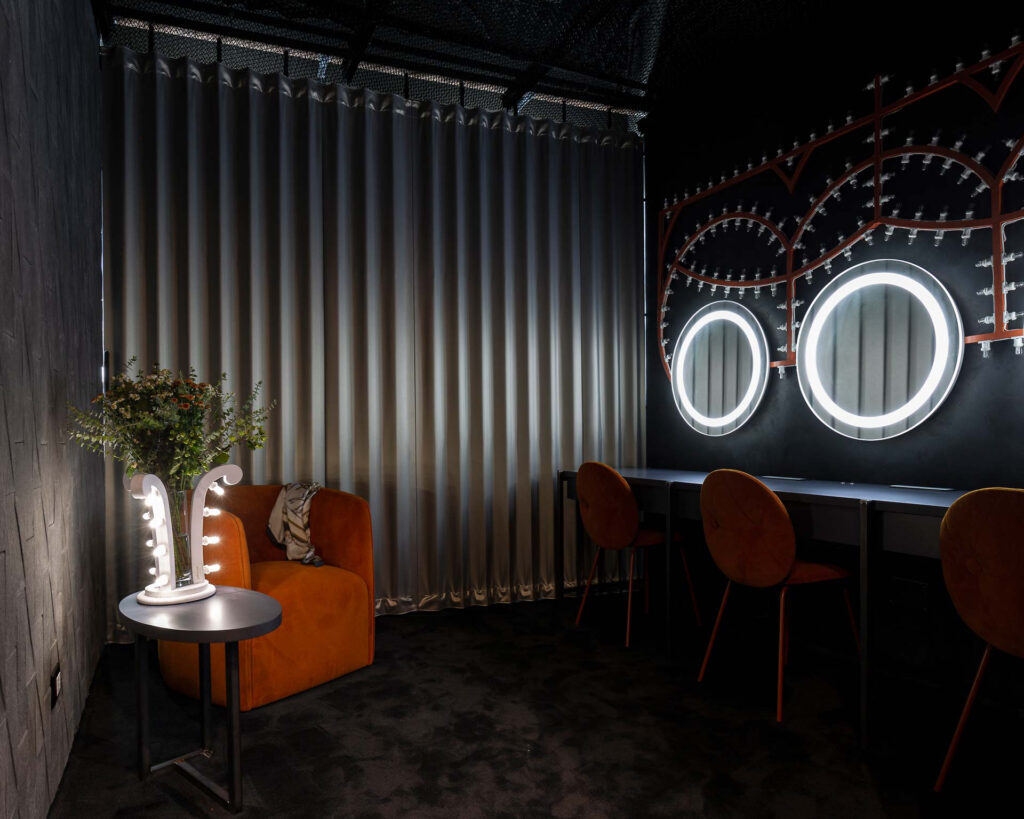 Very Simple Kitchen
"Dooor makes the combination of industrial style and simple shapes "very simple" around the colours, materials and mood of the Very Simple Kitchen showroom in Bologna. Using pastel colours and bright surfaces, the textile door combines a playful atmosphere with the brand's light-hearted and comfortable shapes, transforming the monolithic kitchen into a lighter and more authentic alternative, based on freestanding modules for every space."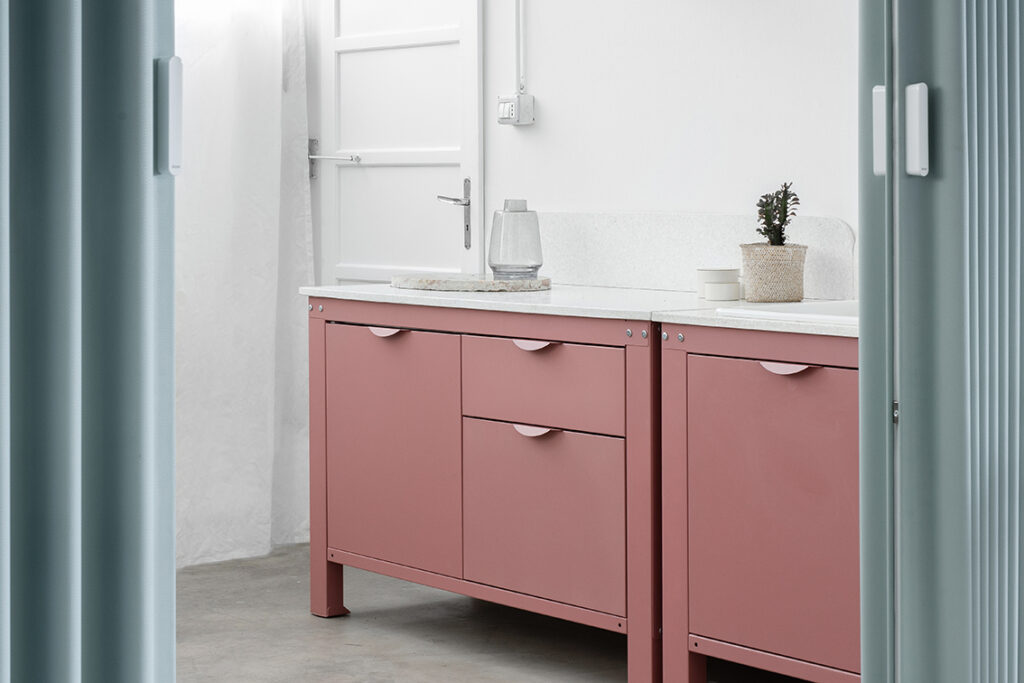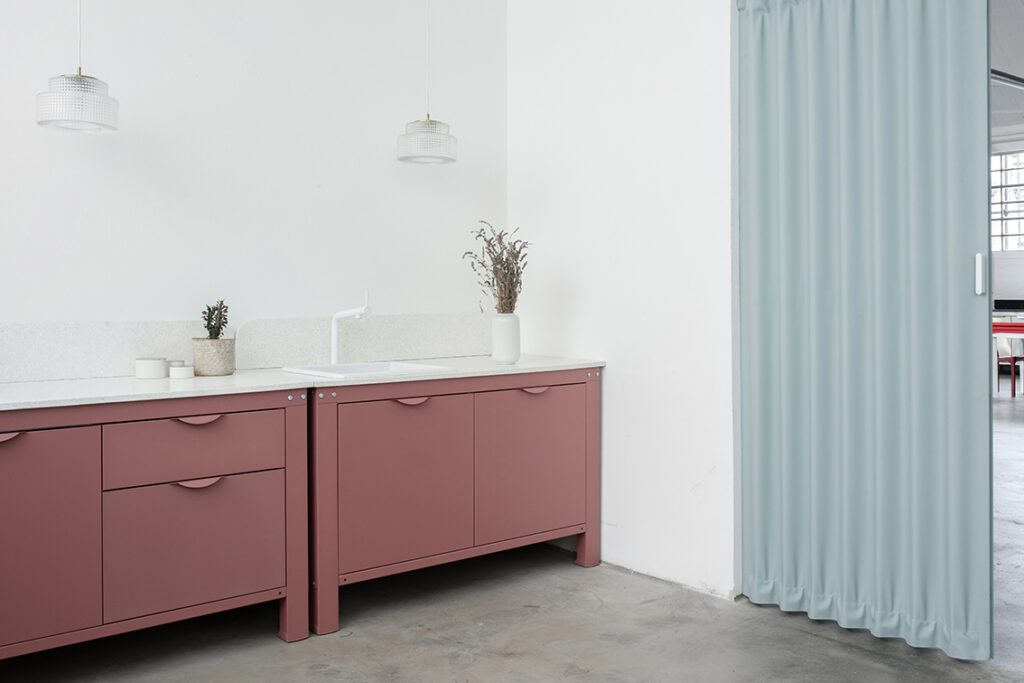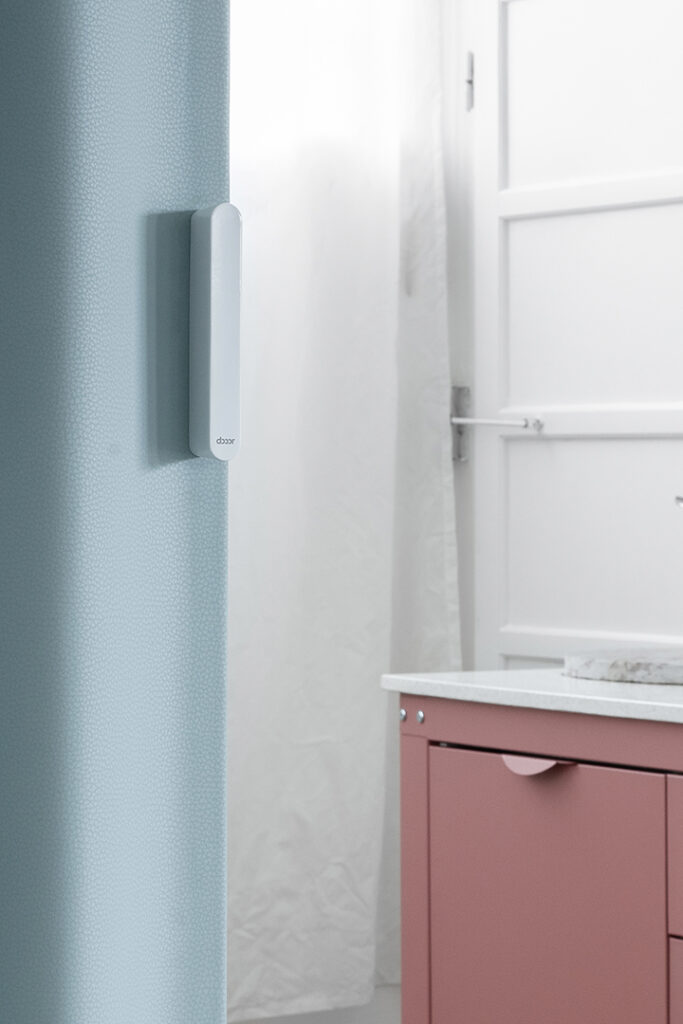 Photographic Studio
"A photographer's home and studio designed inside a 600-square-metre former factory dating back to the 1930s is the evocative refuge for a large 5-metre textile door, which acts as an undulating backdrop to the studio/gallery and dialogues with the original industrial space, with its exposed bricks, high ceilings, severe walls, theatrical stairs and concrete floor. The suspended volumes and the flexibility of the textile wall define the domestic and professional spaces within the building."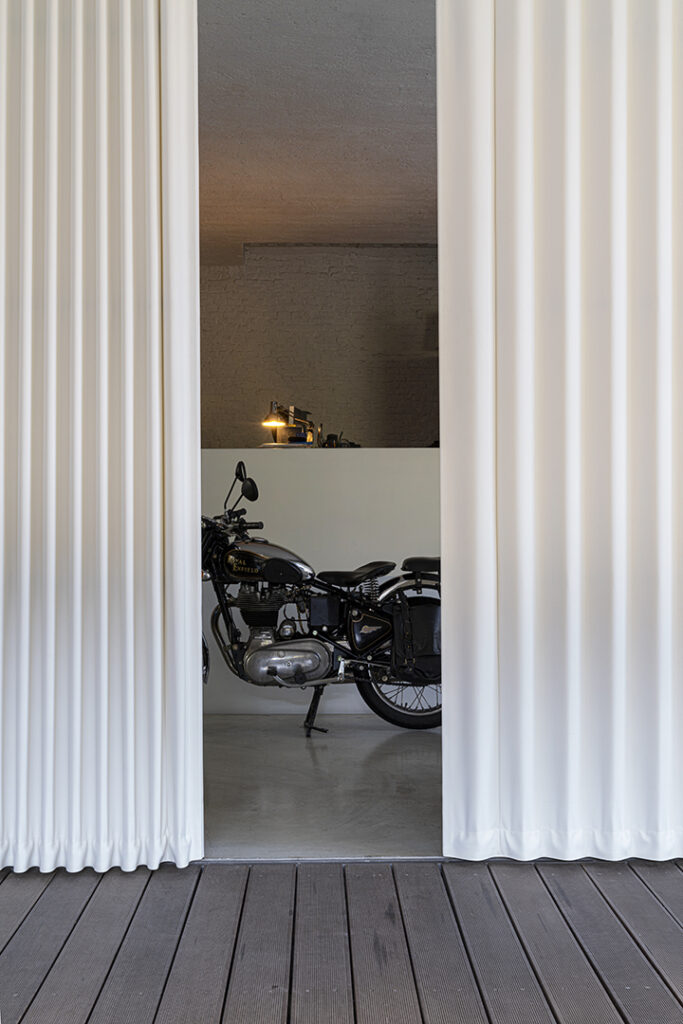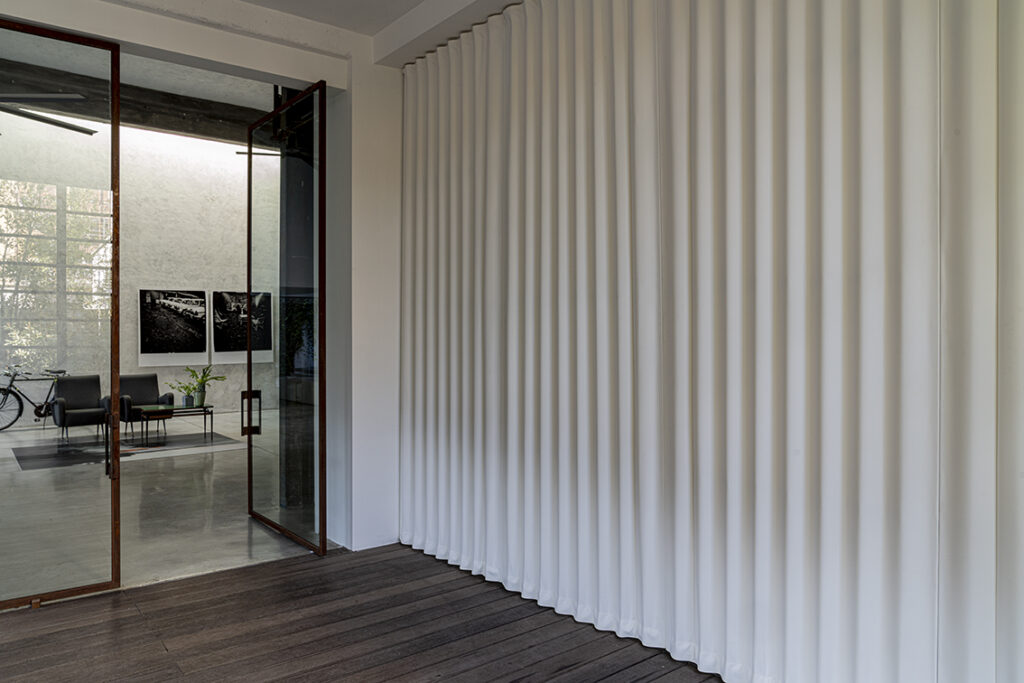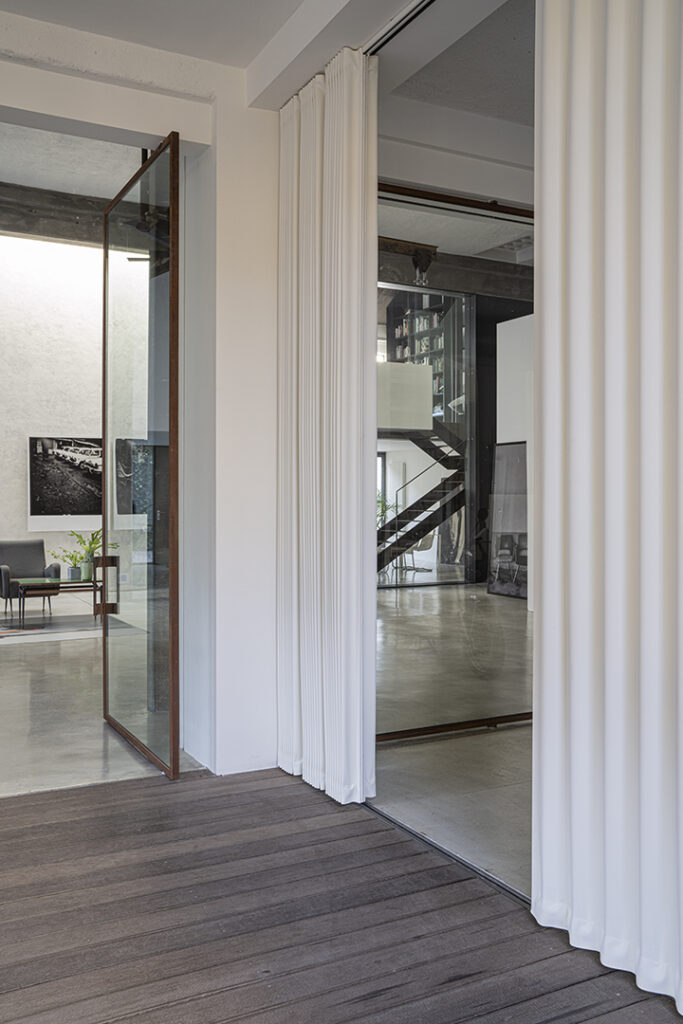 Are you an architectural studio, a company or a private individual and would like to include textile doors in a project or in your home? Visit our shop for more information on The textile folding doors by Dooor
If you liked our blog post "Interior Design Projects with Textile Folding Doors" have also a look at Giving the Room a New Look with the Textile Door