Emeco furniture: Made in America, often by hand, mostly from recycled materials, but always to last.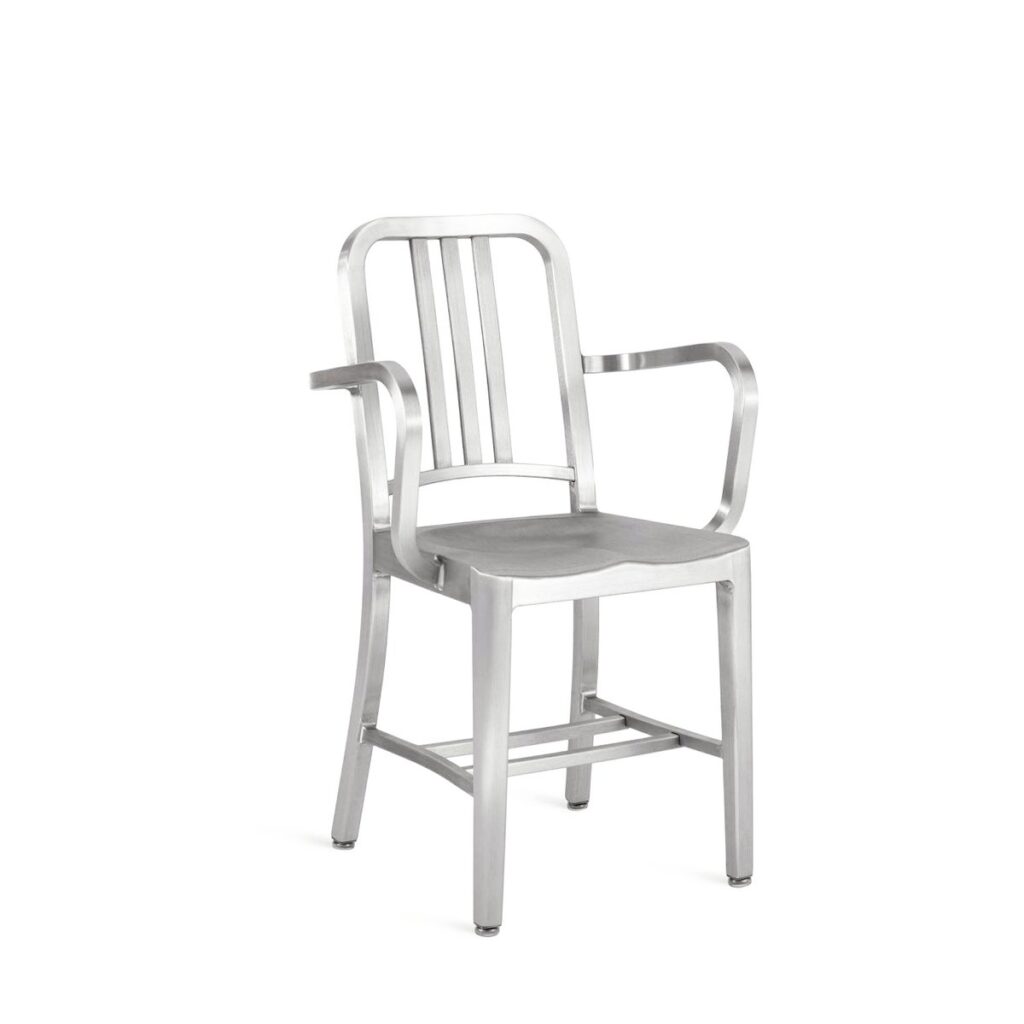 Emeco became famous started creating, in 1944, the  1006 Navy Chair. This iconic model was made for warships and sailors. During 1944, salvaged aluminum was plentiful. Methods to make it highly resistant were not. Which lead to The Process. 77 steps that turn ordinary aluminum, extraordinarily strong. That's how 1006 Navy Chair was born. Sturdy. Smart. Essentially the backbone and DNA of every chair Emeco will ever make. And what works for one demanding environment will eventually suit many, many others.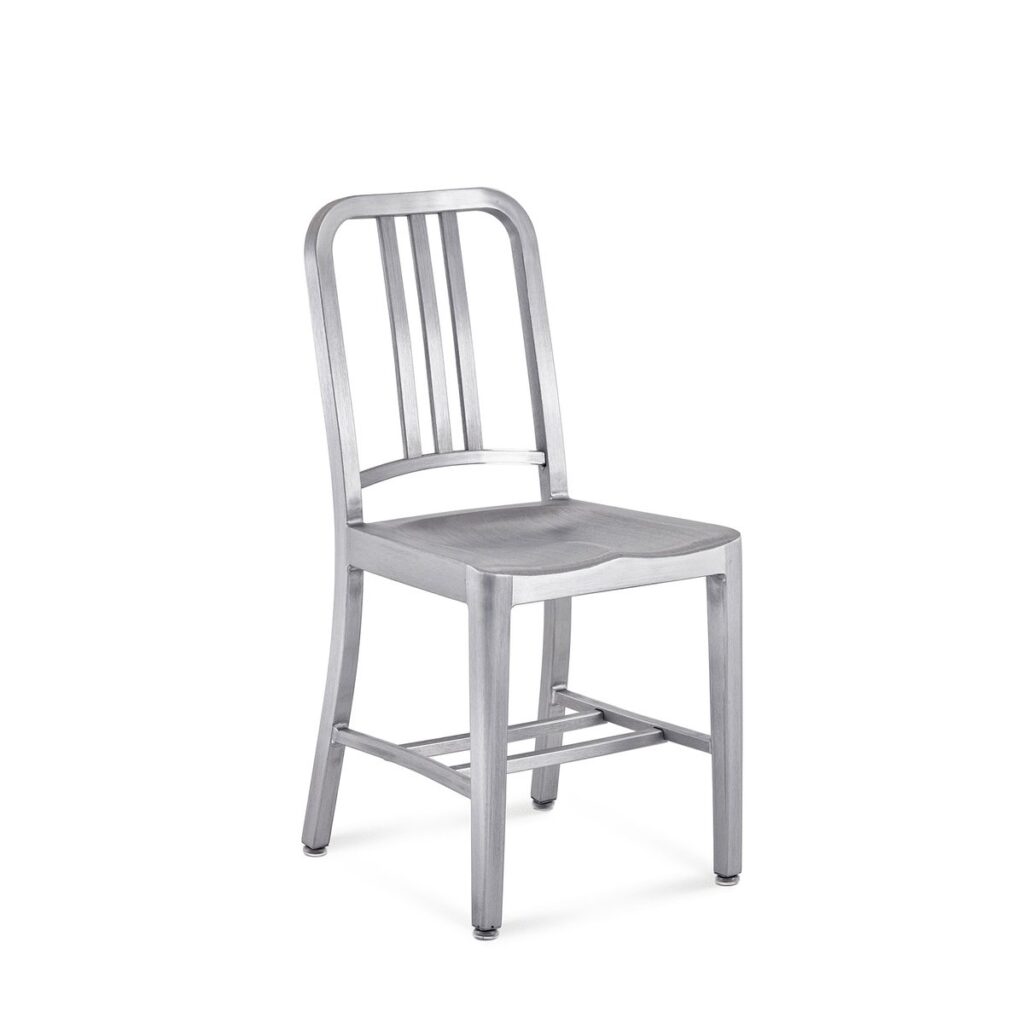 Shop the 1006 Navy chair
Over the years, the 1006 Navy chair became increasingly popular and caught the attention of famous international designers and stylists such as Ettore Sottsass, Giorgio Armani and a bold young French designer called Philippe Starck who ordered a very large number of 1006 Navy chairs. That were destined for an eclectic, design-focused hotel in New York City. The Paramount.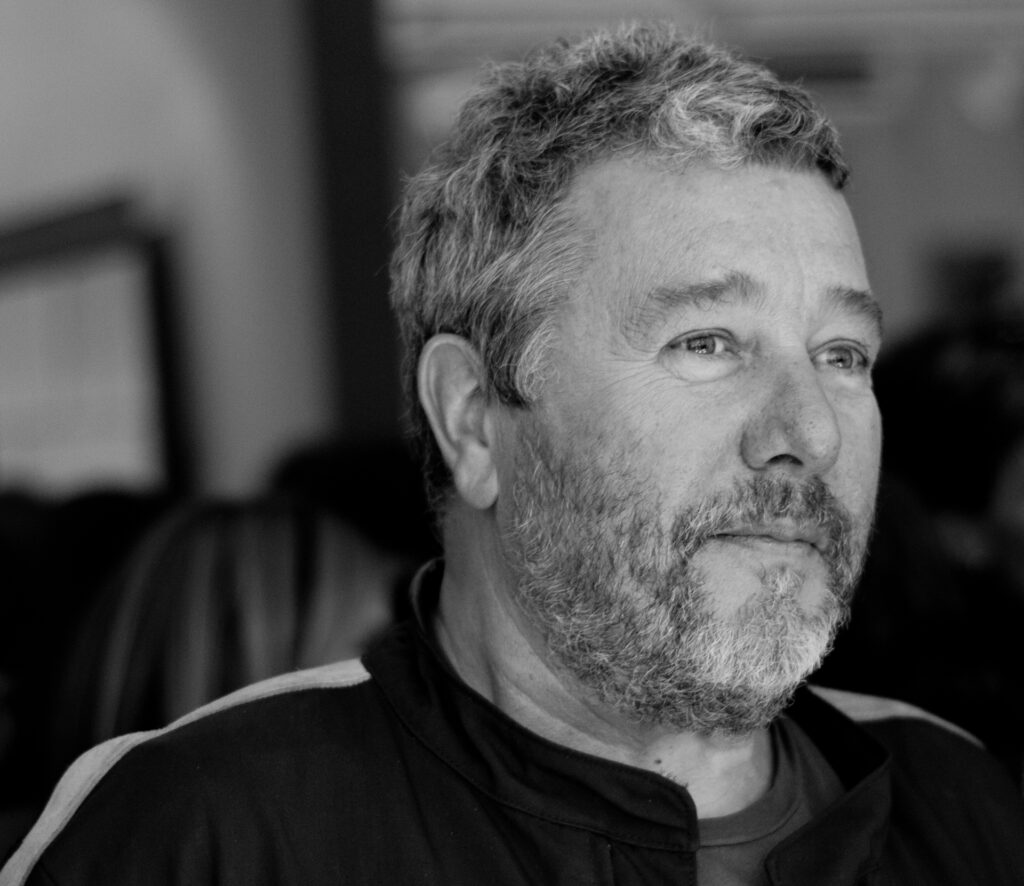 Thus began many collaborations with leading figures from the worlds of design and entertainment. Other designers took notice. Frank Gehry ordered 125 Hudson rolling chairs for his studio. Gregg personally delivered them. Their meeting resulted in the "Superlight" chair. Ettore Sottsass and Norman Foster also shared Emeco's goal of clean-lined, useful, intelligent chairs. Nine-0 by Sottsass was unveiled at the Salone De Mobile in 2008. Foster's 20-06 was chosen for Smithsonian Cooper Hewitt Collection the same year it launched.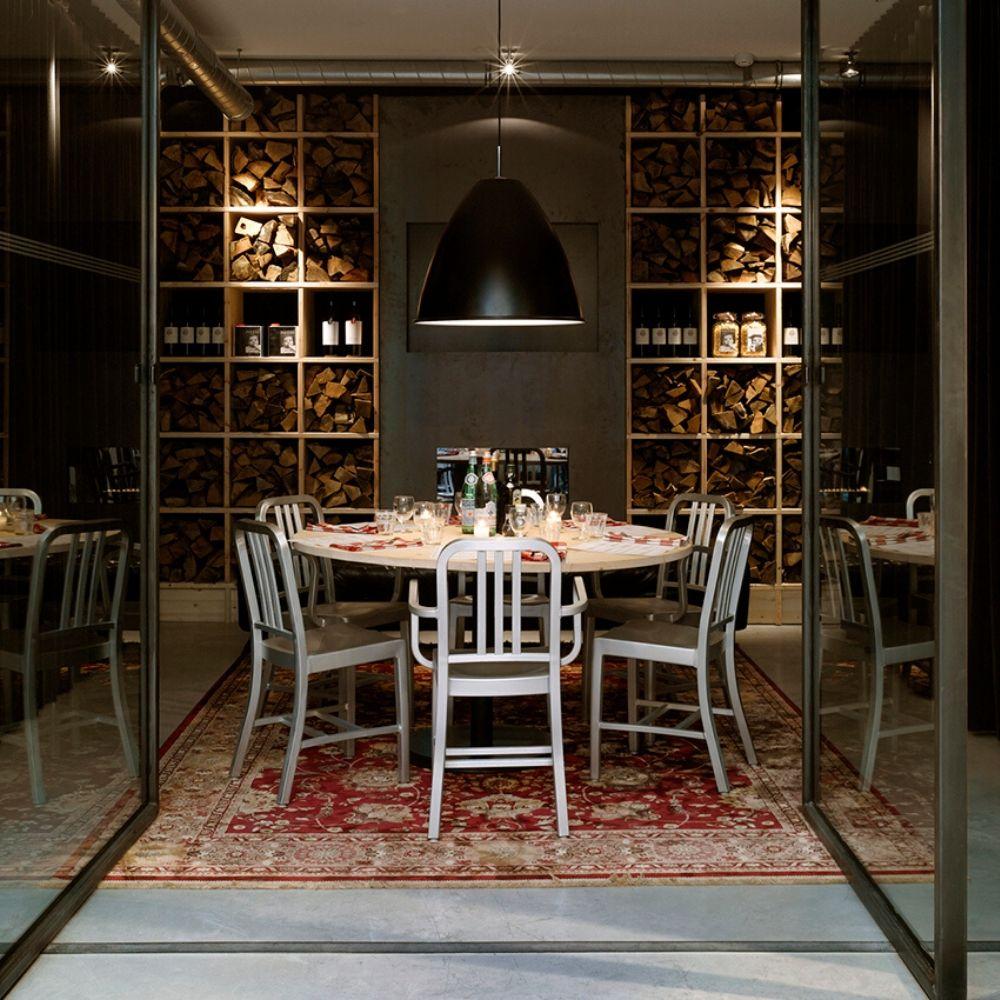 In recent years, Emeco has focused its production on products made from recycled and eco-friendly materials to protect the environment. Thus was born the collaboration with Coca-Cola and the new 111 Navy chairs made with Cocal-Cola bottles. 111 Navy requires 111 rPET Coke bottles, new science and a lot of hard work. But this partnership can rescue tons of scrap plastic from landfills.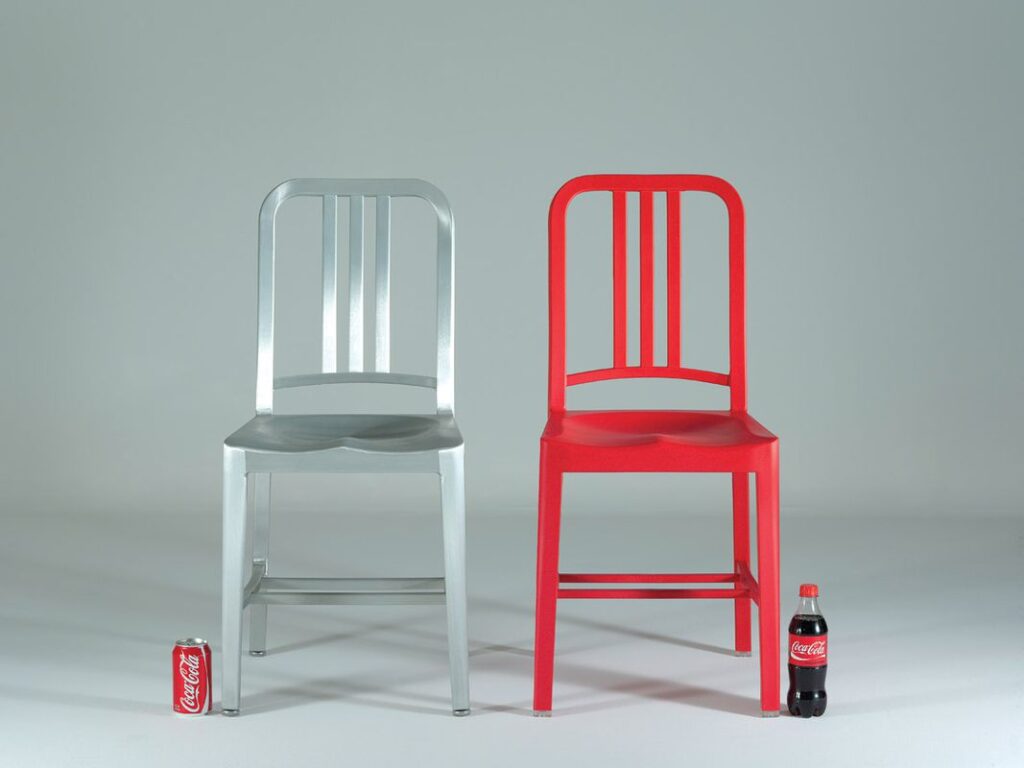 111 Navy succeeds in ways well beyond recycling. It inspires Emeco and many designers to think about original applications using reclaimed materials. Partnerships in this direction become the company focus. Subsequent work with Starck, Nendo, Grcic, Jasper Morrison give new breadth to Emeco's initial purpose, the one that started it all, back in 1944.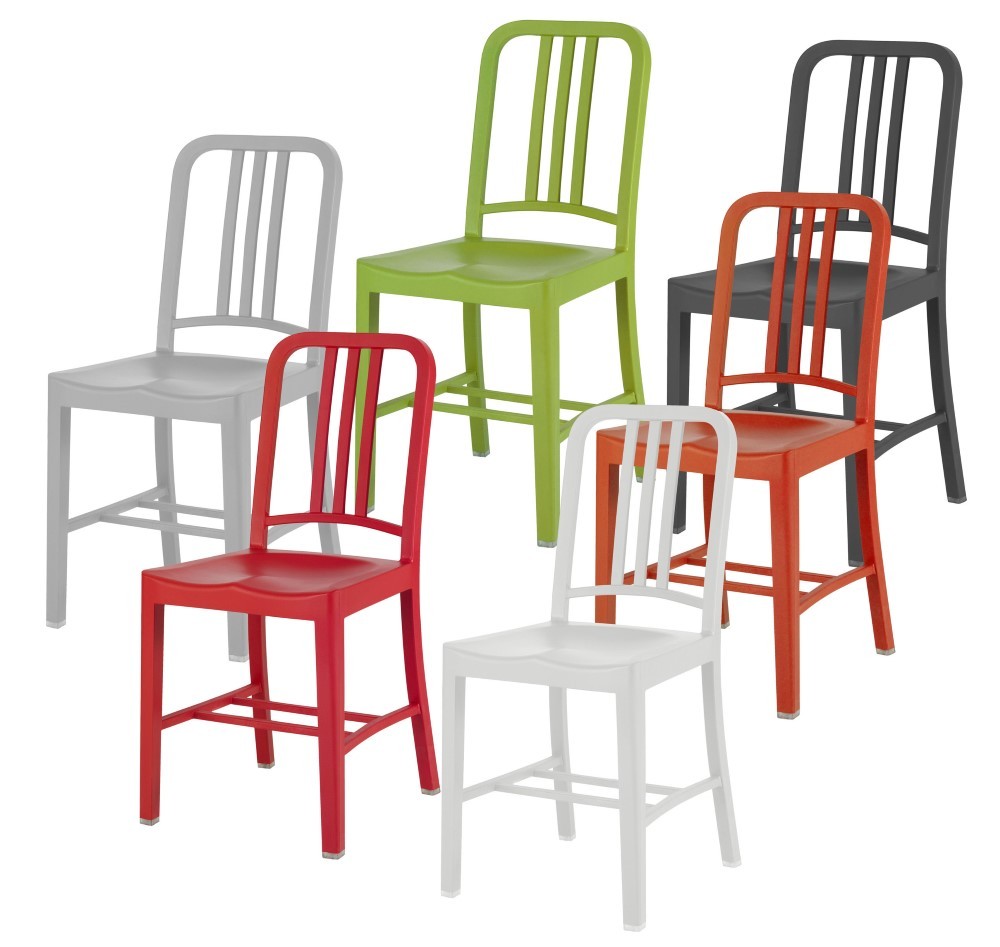 Shop the 111 Navy chair
The collection has expanded over time and ranges from chairs with armrests to stools and chairs for children… new collections have also been created, such as Broom, 1 Inch Reclaimed, Alfi, Heritage, Kong available in our online shop Lomuarredi
If you liked our blog post "Emeco Furniture" have also a look at Miniforms Itinerario V.02 Collection